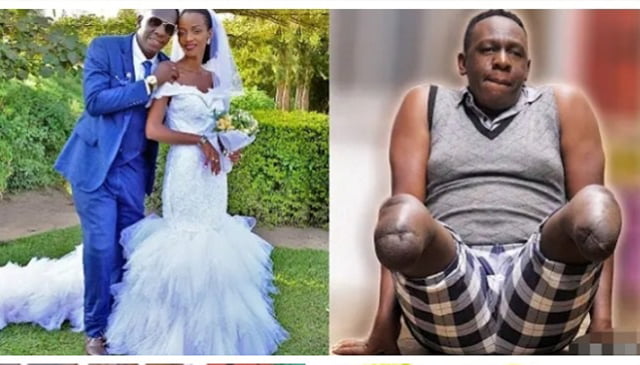 A man called Ndayisenga and his wife Deborah have been married for eight months now. Ndayisenga has made it clear that he dated his wife for two years but he never told her that he had no legs.
Ndayisenga's story is very sad and at the same time disturbing, according to him, he had a fire accident that led to the amputation of his two legs. Another sad part of this is that he lost all his family through this fire accident and has been left all alone for a very long time.
This man also claimed that many people from his village or neighborhood have been bullying him because of his condition, many people used to laugh at him that no woman will ever accept his marriage proposal because of his disability.
Ndayisenga is a musician who is doing very well in his career, and he made it known that he met his wife while he was performing in a competition. Narrating how got her, he made it clear that he gathered the courage and approached her after his performance, they became good friends, and the friendship developed into a romantic relationship.
While they were dating, he was unable to open to his wife to be at that time that his legs had been amputated due to fear of being rejected since he had faced rejection throughout his childhood.
They planned for their wedding, got married and his wife was in shock when she realized that her husband had no legs but that did not stop her from loving him.
Deborah claims that he is the best husband and she will always be on his side. On the other hand, Ndayisenga expected his wife to divorce him but that was not the case.
They have been married for eight months and they claim that is the best thing that has ever happened in their life.
Read also: "My girlfriend says the GH¢500 monthly I give her is too small," – Man needs your advice (Read More)
Watch the video below,