Meet African King Béhanzin (Gbêhanzin) Hossu Bowelle or the 'King Shark' was one the most powerful kings in West Africa at the turn of the 19th century.
This great African King was the eleventh king of Dahomey, and the last independent ruler of Abomey before French colonization, and also the one who commanded an army of French soldiers to freeze, and by some spiritual means these soldiers truly froze. Who was Béhanzin?
Born in 1844 in Abomey, Béhanzin was the eleventh king of Dahomey from 1889 to 1894. His name, Kondo, was changed to Béhanzin after he succeeded his father Glèlè. His personal symbols were the shark, the egg, and two coconut palm trees, while those of his father were the lion and the ritual knife of Gu.
His name actually meant 'the egg of the world or the son of the shark '. His great love for the freedom of his country, culture, and people led him to courageously and fiercely defend the land of his ancestors. He led the resistance and fight for the Dahomey's freedom.
Read Also: The Nigerian Singer That Refused Fela Kuti's Marriage Proposal In The 1980s
Dahomey was one of the most powerful kingdoms of West Africa, deriving its power from trade and its superior army. Dahomey's army was one of the strongest and best-organized armies in West Africa and was comprised of both men and women, including the Amazons, a superior and dreaded fighting force of female warriors.
At the time, Béhanzin masterfully led an army of 15,000 men and 5,000 amazon women. One of the Amazon leaders was Seh-Dong Hong–Beh (which means "God speaks true ") who led an army of 6,000 amazons against the Egba fortress in Abeokuta in 1851.
In 1882, France declared a protectorate over Porto Novo, a vassal state of Abomey, without consulting with the indigenous people, as was (and still is) the practice with European colons. By 1885, the French occupied the entire coastal strip West of Porto Novo.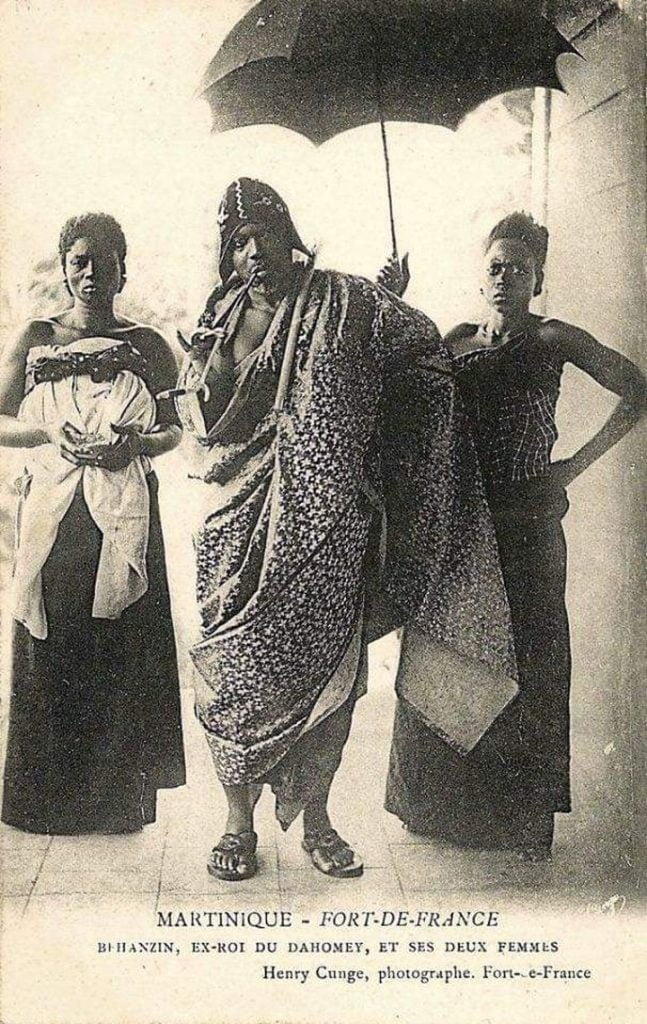 In 1889, King Glèlè and his son Béhanzin, who considered these coastal areas to be part of the kingdom of Dahomey, declared that the Fon people could no longer tolerate France's actions.
In February 1890, the French occupied Cotonou; Béhanzin, now king after Glèlè's sudden death, prepared for war. Béhanzin's army, with rifles supplied by the Germans, was getting too strong for neighboring French colonies.
Béhanzin's forces attacked the French simultaneously on two fronts— militarily at Cotonou and economically by destroying the palm plantations at Porto Novo. The latter precipitated an early end to the hostilities. A treaty was signed, with the French continuing to occupy Cotonou, for which Béhanzin exacted an annuity; he made France pay for the use of Cotonou port.
The peace lasted for two years. However, France was determined to annex Dahomey before the British or Germans did. Béhanzin, knowing that he would have to defend his sovereignty, continued upgrading his army in preparation for renewed war.
He declared a treaty made with France by his father, Glèlè, 1868 null and void, from this war began. In 1894, Béhanzin was defeated by Colonel Alfred-Amédée Dodds, a Senegalese mulatto, who was sent to fight against him with powerful French armed forces. Béhanzin, not wanting his people to be massacred, surrendered his person to Dodds, without signing any instrument of national surrender or treaty.
Béhanzin thought that he will get a chance to talk to the French president and find a way or sign a conciliation agreement for his country, unfortunately, the French tricked him and instead of going to France, Behanzin was exiled to Martinique.
With Béhanzin and his immediate family adamantly refusing to sign a treaty making Dahomey a French protectorate, the French installed their choice, Agoli-Agbo, as king; Agoli Agbo, the puppet, did not last more than 6 years (when he asked for more freedom to rule, he was deported to Gabon). Dahomey was then placed under France's protection and it eventually became a French colony. Béhanzin died in 1906 in Algeria.
In 1928, his son, Ouanilo (who was also France's first African attorney in 1920) had his body moved to Dahomey. Ouanilo's remains will be restituted to Benin almost 80 years after his death.