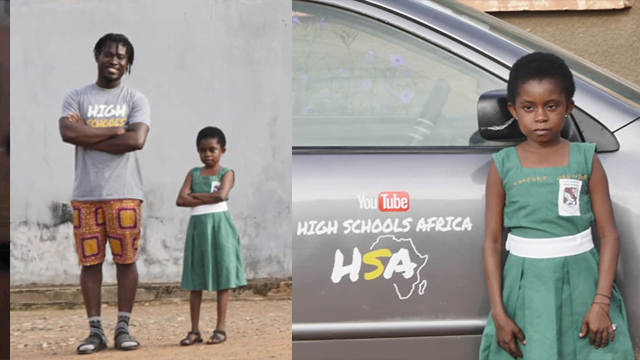 Meet Comfort Mensah, the smallest and smartest Wassce student in Africa.
The smallest and smartest Wassce student in Africa has pop up on social media, and many Ghanaians have already reacted to the video. There are soo many small people in our various Senior High Schools but the one High Schools Africa has discovered is the smallest and smartest you may ever know.
High Schools Africa has been doing well in promoting African High Schools to the world. Goshers who is the showrunner of the YouTube show "high schools Africa" has the aim of visiting each and every High school in Africa and promote them to the world.
Goshers made a trip to Fijai Senior High School and as usual, he made a wonderful video about Comfort Mensah who is considered to be the smallest and smartest Wassce student in Africa.
According to Goshers, Comfort gained admission into the school in the year 2018 and by God's grace, she has successfully completed her 3 years stay on the campus of Fijai Senior High School.
See Also >>> Takoradi Technical Institute student builds 1st excavator that operates with water
Goshers drove all the way to the school to pick Comfort to the station where she can get a car back to her village since she is done with SHS. After loading her bags and other things into the car, Goshers had a short conversation with her.
See Also >>> The Most Powerful And Highly Respected Senior High School Perfect In Ghana
Watch the video below.