Who Is Kareem Olamilekan?
Kareem Waris Olamilekan, also known as waspaart, is a Nigerian hyperrealism artist and art prodigy born on March 14, 2006. He began drawing at the age of six. During the president's visit to Fela Kuti's New Africa Shrine in Lagos, Nigeria, on 3 July 2018, he drew a hyper-realistic portrait of French President Emmanuel Macron in two hours.
President Macron was so moved by Olamilekan's work that he tweeted a short video of the young boy drawing. As a result, Olamilekan's work has since received international recognition.
Kareem Olamilekan's Extraordinary Talent
It is not every day that the world recognizes the emergence of a super genius, particularly one from Africa. Not when that genius is an 11-year-old hyperrealist painter dubbed "the new Michelangelo" by observers all over the world.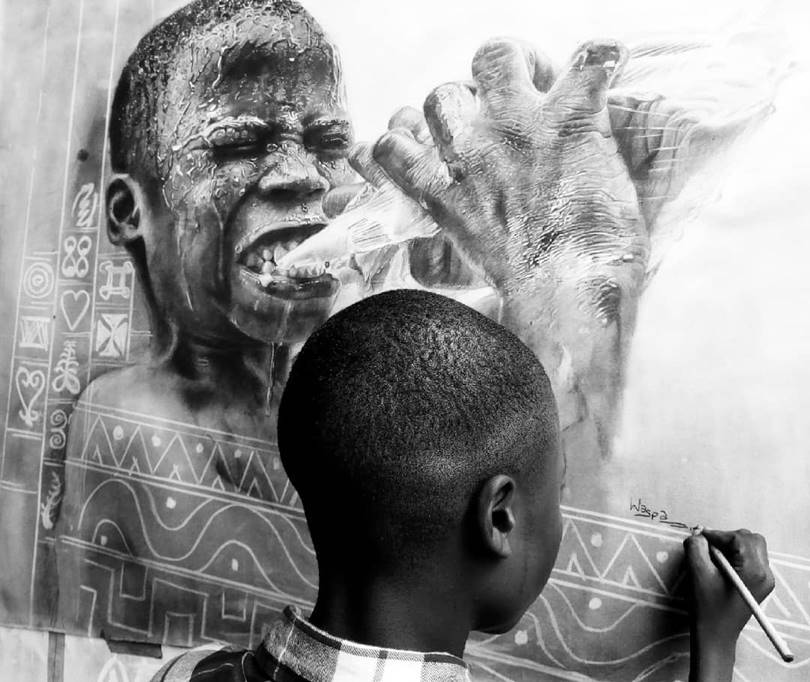 But what young Kareem Waris Olamilekan has accomplished thus far has etched his name and work in the annals of great art, particularly his recent victory over 2,723 international candidates for Taiwan's 22nd Fervent Global Love of Lives Award.
Kareem, whose art has been similarly recognized by global leaders such as French President Emmanuel Macron, received the Fervent Global Love of Lives Award from the Chou Ta-Kuan Cultural and Educational Foundation, which was founded in 1997 and annually invites institutions, organizations, schools, or individuals to nominate candidates who are brave, benevolent, and diligent fighters in life.
The Foundation, which promotes the 'Global Love of Lives movement' and believes that 'Everyone is Good at Something,' has been working hard to build bridges between people from all over the world.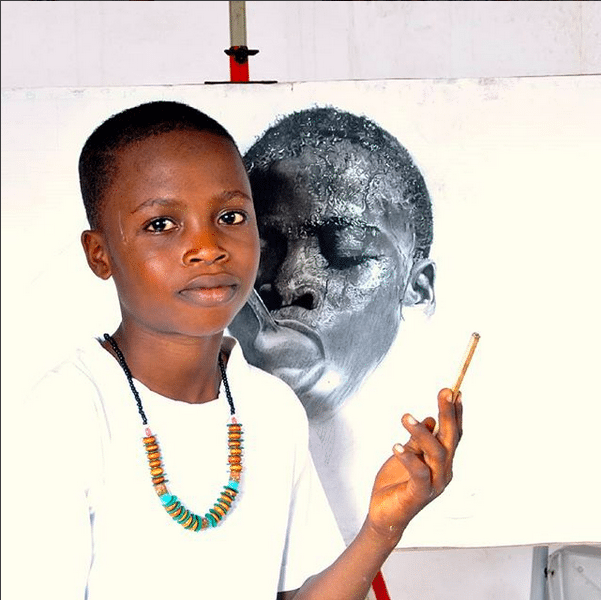 Kareem Olamilekan, whose work stands out for its genius, is one of Nigeria's rapidly growing number of hyper-realist painters. His performance is exceptional, however, due to his young age. While some artists use pen and ink, he prefers to use charcoal and pencil for his paintings.
Using his impressive talent Olamilekan beat all the participants to clinch the 22nd Fervent Global Love of Lives Award; a top Taiwanese award.
Speaking on the commendable development, the Representative of Taiwan ( Republic of China) in Nigeria, Amb. Vincent Yang, said that Waris Kareem, who had gained global recognition for his incredible drawings would attend charity events with other laureates in Taipei and meet Taiwanese President, Tsai Ing-wen.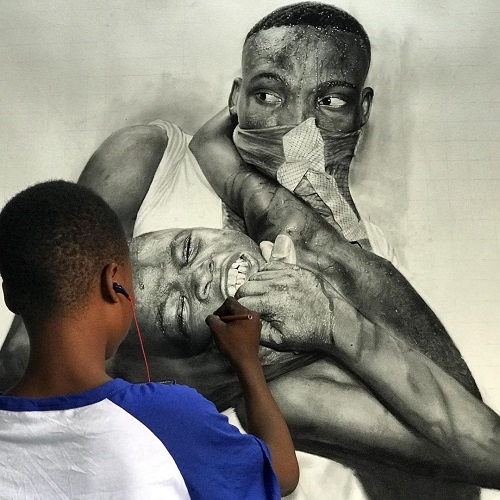 "Famous Nigerian Internet Bitty Artist – Waris Olamilekan Kareem stood out among 2,723 recommended candidates from all over the world earning the `22nd Fervent Global Love of Lives Award 2019' from Taiwan's Chou Ta-Kuan Cultural and Educational Foundation".
"He sketched a stunning portrait of French President, Emmanuel Macron, on the spot in just two hours, which amazed the global media. He has now become a famous Internet artist,'' he said.
He went on to extol Olamilekan's efforts saying, "The poverty-stricken children all call him the little artist Robin Hood. He uses his drawing talent to produce beautiful works in exchange for some food to fight hunger and also to feed the hungry companions in the slum".
"The works of Michelangelo motivate him, and his goal is to surpass the standard set by the great artist. He intends to use drawings to depict Africa vividly and flip a new life to change Africa".
The young Nigerian artist is definitely one to watch with a potentially bright career ahead of him