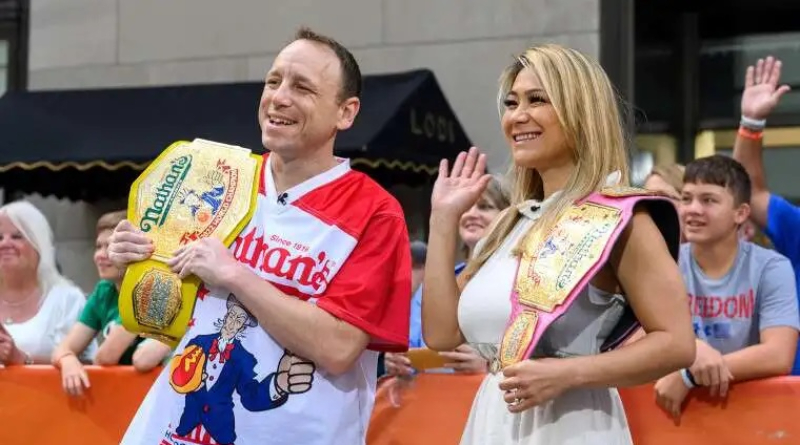 Joey Chestnut Parents & Siblings– Joey Chestnut is a competitive eater from the United States who is most known for winning the eating competition "Major League Eating."
California is where he was born and reared. He was 2 years old when his father left the household. Following this, his mother reared him by herself.
He grew up with five other siblings. He once stated that he had a huge appetite as a kid and ate a lot. He attended 'San Jose State University and participated in his first eating competition when his younger brother insisted that he join a deep-fried asparagus eating contest. He performed well in the contest and began making a name for himself in the domain.
He obtained a civil engineering degree and worked in the construction business for a while. He had his first brush with fame in 2007 when he won the 92nd 'Annual Nathan's Hot Dog Eating Contest.' Over the years, he won 11 more 'Nathan's' contests. He holds several records in the game and has won several championship titles in 'Major League Eating.'
While in college, he did not have enough money to eat whatever he liked. Thus, whenever he moved back to his house from college, he would eat a lot of the food that his mother cooked, which he absolutely loved. In 2005, his brother noticed this and asked Joey to participate in an eating contest, which turned out to be a life-altering moment for him.
In 2005, Joey participated in the first eating contest of his life, while studying at the 'San Jose University.' It was a locally held deep-fried asparagus eating contest. During the competition, he emerged as a dark horse and defeated the ultimate favorite contestant, Rich LeFevre, by devouring 6.3 pounds of deep-fried asparagus in less than 12 minutes.
He liked the whole vibe around the eating contest. Soon, he gained enough confidence to join a famous hot-dog-eating championship that year, known as 'Nathan's International Hot Dog Eating Contest.' He was placed third after he ate 32 hot dogs in the contest. In another eating competition that took place later that year, he ate 32.5 grilled cheese sandwiches within 10 minutes, to set a new world record. He participated in a few more eating contests and managed to gain more fame.
In 2006, he participated in 'Nathan's Contest' again after he qualified to enter the tournament by eating 50 hot dogs with buns. Takeru Kobayashi was one of the leading players in the tournament and the reigning champion. It was speculated that Joey would beat Kobayashi easily. The competition was quite close. Joey led the tournament through most of it. However, in the final tally, he lost to Kobayashi, who ate a little more than 53 hot dogs, while Joey could manage to eat only 52.
READ ALSO: Joey Chestnut's Net Worth: How Much Is Joey Chestnut Net Worth
Joey and Kobayashi then participated in the 'Johnsonville World Bratwurst Eating Championship,' which was held in Wisconsin. Kobayashi won this tournament, too, eating 58 bratwurst sausages in 10 minutes, while Joey ate only 41.
By 2007, Joey Joey Chestnut participated in many tournaments and had won the 'Wing Bowl XV' tournament held in Philadelphia. He had also set a record in the same tournament, eating 182 chicken wings in 30 minutes. The same year, he appeared in a 'YouTube' video that showed him drink one gallon of milk in just 41 seconds.
In 2007, Joey and Kobayashi were competing once again, in 'Nathan's Contest,' which was held in Brooklyn, New York. Joey defeated Kobayashi in the contest by eating 66 hot dogs within the given time, which was three more than Kobayashi. It was also Kobayashi's first defeat in the tournament in 6 years.
In October 2007, Joey Chestnut set a new personal and world record by eating 103 "Krystal Hamburgers" at the 'World Hamburger Eating Championship' held in Tennessee.
In 2008, he secured two wins, one of them in the 'Wing Bowl XVI,' where he ate 241 chicken wings in 30 minutes. He thus set a new world record by doing this. He made another world record after eating 78 matzo balls in the 'World Matzoh Ball Eating Championship' in Houston, Texas.
On June 21, 2008, he was pitted against Kobayashi again, in a pizza-eating contest, which was telecast on 'Spike TV.' Kobayashi won the contest. The same year, during 'Nathan's Hot Dog Contest,' he ate 59 hot dog buns in 10 minutes and tied with Kobayashi.
Joey Chestnut Parents & Siblings
According to available information, Joey Chestnut is not wed. Merlin Chestnut and Alicia Chestnut are the names of his parents. One of his siblings' names is unknown. If you wish to view some information or their social media profiles, it is provided below.