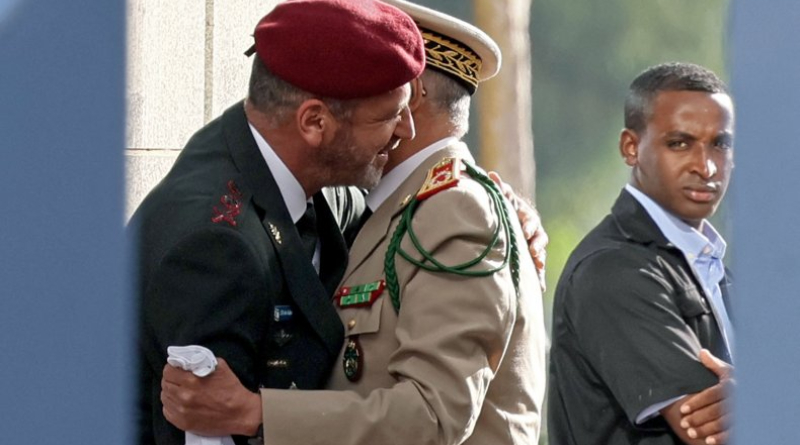 Israeli Major Reveals Once-Quiet Military Ties With Arab
Israeli Major: A senior Israel Defense Forces (IDF) commander disclosed to Newsweek how security connections in the area are expanding—quietly and openly—in the wake of a historic summit at which Morocco became the first Arab or Muslim nation to send an official military delegation to Israel.
The IDF Regional Cooperation Department was founded a year ago to promote military ties between Israel and nations in the Middle East, North Africa, and Eastern Mediterranean. The officer, who asked to be referred to as Major T., is the department's leader. Since then, Major T. has stated that "we've achieved incredible progress," going well beyond what we anticipated.
The most noticeable indication of progress to date is the arrival of Lieutenant General Belkhir el-Farouk, Chief of Staff of the Moroccan Royal Armed Forces, in Israel this week to take part in the inaugural International Operational Innovation Conference. 22 military delegations from around the world, including those from the region's Greece and Cyprus, attended, including Farouk's team.
In accordance with the Abraham Accords, Morocco normalized relations with Israel in December 2020, becoming the fourth and most recent Arab nation to do so after the United Arab Emirates (UAE), Bahrain, and Sudan. Only Egypt and Jordan had signed peace treaties with Israel prior to those deals, and they work together to defend Israel's borders.
Major T. said it was his personal mission "to see how we can put substance behind the agreements that were signed, the Abraham Accords, and bring these relationships to light, make the common folk understand the benefit of these relationships, change their perception of Israel after their courageous leaders made this step in the right direction and really show the Arab world in its entirety that Israel is an asset."
He said it was important to show how "we can work together and Israel is coming back and the IDF is coming back to the neighborhood." And this effort was not limited to the countries that have gone public with their relationship with Israel.
"Even if there are other partners with whom our relationship is not formal yet, we don't have any diplomatic relationship," Major T. told Newsweek, "I think that once we build it the right way, and they can see that their friends in other countries that we do have a relationship with, that they are better and they're better at protecting themselves because of the relationship with Israel, the interactions with them will come to light as well.
"I am very hopeful that it will happen in the near future."
Still, Major T. acknowledged that obstacles remained. He said that, over the past year, the IDF has studied closely the "sensitivities" among Arab states looking to deal with Israel and that these reservations "are more than understandable" given the historical context of Israel and the Arab world.
Upon its establishment in 1948, Israel fought a war with Arab nations supportive of Palestinian territorial claims that remain unresolved to this day. Two more major Arab-Israeli conflicts erupted in the following decades and, until the Abraham Accords, a broad consensus had been reached that Arab states—with the exception of Egypt, which made peace with Israel in 1979, and Jordan, which did the same 15 years later—would not recognize Israel until the rights of Palestinians were addressed.
Even as the Israeli-Palestinian feud has continually erupted into violence and Jewish settlements expanded in recent years on territory considered by the international community to be occupied by Israel, however, Arab countries have increasingly reconsidered their boycott.
Major T. said that, on the military-to-military level between Israel and the Arab states he has engaged with, "we do not see an impact" of these countries' official support for the Palestinian struggle for statehood. He said the issue is "for the political level and this is something to be addressed at that level."
"We see people who are like-minded, who will look at the problems of the Middle East professionally and understand the benefit of working together," Major T. said. "And I think that's what I've seen, at least now.
"I know there are political issues and I know several of these countries, they say some things in public, it's one of the sensitivities that we have to work around and work with. But I think we all understand, behind closed doors, where our interests are and how we can work together to fulfill these things."
Some of these mutual interests were discussed at the recent conference in Israel, including "how to bring intelligence into the fighting forces in a better way, how to better target our enemies, how to better equip militaries in the coming future," according to Major T.
Asked about the nature of these common foes, Major T. offered a broad explanation, noting that threats were unique to each nation.
"The benefit of the way we look at the Middle East is not to single out a single entity or organization or country," he said. "All of these countries and, we, of course, want stability and security in the region. There are other forces in the region that seek instability.
"If we work together, this is exactly what would make this region more secure and more stable. And this is what everybody understands. We all have the same challenges."
As Israel contends with threats emanating from borders on all sides, including Lebanon, Syria, the Hamas-led Gaza Strip, the partially Palestinian National Authority-administered West Bank and Isreal's broad southern desert region bordering Egypt's Sinai Peninsula, the Red Sea and Jordan, Major T. cited some commonalities with Morocco's own frontier woes.
The Northern African nation has troubled ties with Algeria to the east and Mauritania to the south, especially owing to the disputed status of the Western Sahara region, a vast coastal desert territory that Morocco claims sovereignty over despite an ongoing insurgency led by the Polisario Front guerilla group.
Morocco's northern passage to Spain via the mouth of the Mediterranean is also subject to scrutiny over the mass movement of refugees and drug trafficking from across Africa attempting to enter Europe.
Elsewhere in the Arab world, especially in the Arabian Peninsula, nations share concerns with Israel over Iran's activities across the region. These concerns remain even as countries like the UAE resume diplomatic relations with the Islamic Republic and even Riyadh has entered into quiet rounds of talks with Tehran with the aim of recalibrating their bitter rivalry.