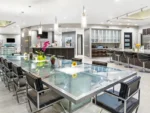 The Hollywood Hills mansion which most influencers use for hype has been put up for rent by the owners.
The former Hype House Hollywood Hills Pad is reportedly advertised for short- or long-term leases with a hefty price tag of $50,000 per month, according to sources from TMZ.
A stunning 10 bedrooms and 16 bathrooms are located in the 16,000 square foot Hype House Hollywood building.
Also, the property has a movie theater with a 160-inch screen and an 80-foot-long nightclub with a full bar, plus a gym, pool table, ping pong table, 3 sports bars, and a high-speed elevator.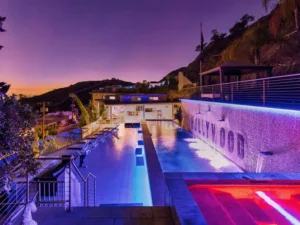 The estate also features a huge outdoor deck with an 80-foot-long swimming pool and spa … not to mention state-of-the-art lighting, a sound system, and a recording studio.
This property was purposely built for influencers and other social media users. However, some TikTokers who have taken over the property include; Thomas Petrou, Cole Hudson, Mia Hayward, Calvin Goldby, Patrick Huston, and Nicholas Austin.
SOURCE: Ghnewslive.com