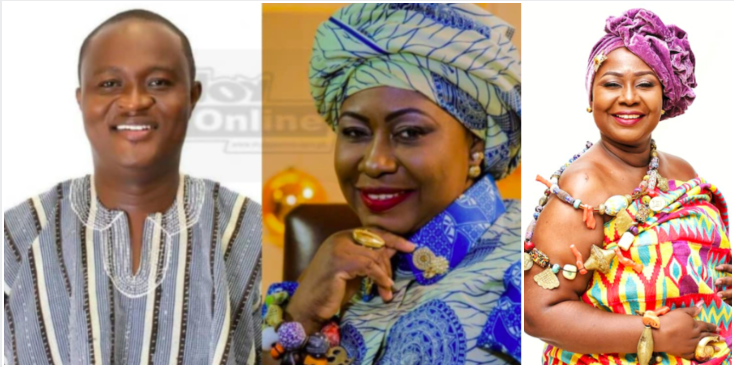 The spokesperson for the Ministry of Education, Kwasi Kwarteng, has blamed expert telecaster, Oheneyere Gifty Anti, for destroying the lives of young women who paid attention to her women's activist lessons.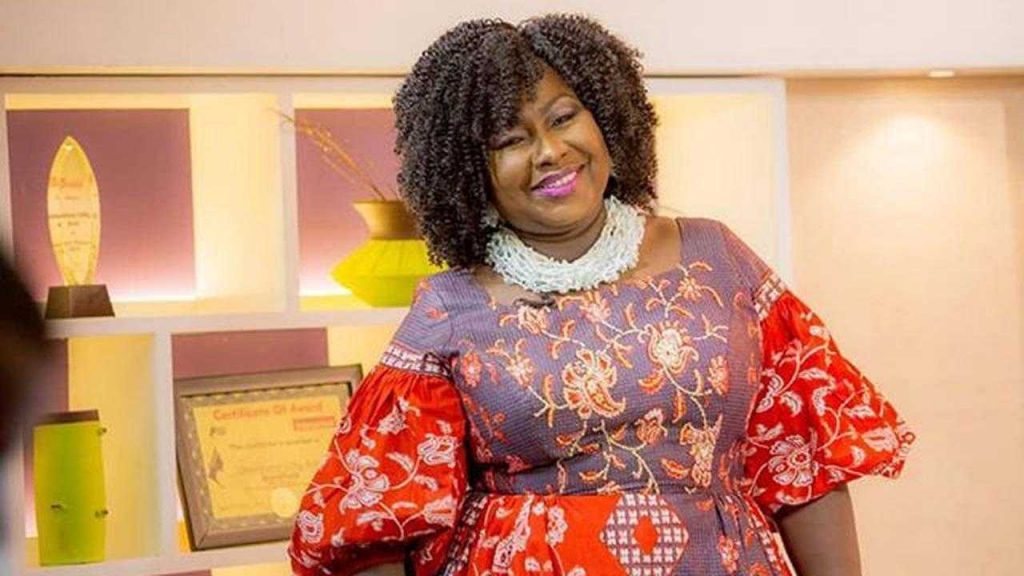 Based on his opinion, her devoted audiences who considered her recommendation on women strengthening initiatives, started embarking on ill-conceived social status recognition steps with men, which sooner or later, dismantled their homes and relationship lives.
On Wednesday, he made a statement on Facebook that the previous news anchor, pushed her devotees to shun marriage and focus on their career goals, just to do the opposite.
He considers this a disloyalty that she must remedy through preparing women to have a multitasking mentality, in order to structure them to fuse their objectives with different pertinent social responsibilities.
"This is what you did and destroyed the identity of many young women who followed you religiously but blindly," he said.
"Sadly, you have reduced life to a competition between men and women. In your attempt to help young women find their identity, you erroneously created an impression as if the only thing they need in this world is their career and that life is all about how they can be better than men", he criticized.
Mr. Kwarteng proceeded on further by saying, "Young women were told the only important variable necessary for their development was their career and nothing else. Today, you betrayed the very principles you stood for."
"I wish you have the courage to re-educate them that a well-balanced aggregation of family, marriage & career is equally vital to one's identity. And that they can still get to the top without seeing men as their competitors," he charged.
"To over-emphasize career at the altar of others has proven to be consequentially unfulfilling, especially in a world where our identity is largely corporate and shaped by society", Kwasi Kwarteng duly ended his words of insight on this note.
Mr. Kwarteng offered these comments in response to a publicized message in which Oheneyere Gifty Anti, previously known as Gifty Anti, was noted to have expressed that 'Every man is afraid of a powerful woman'.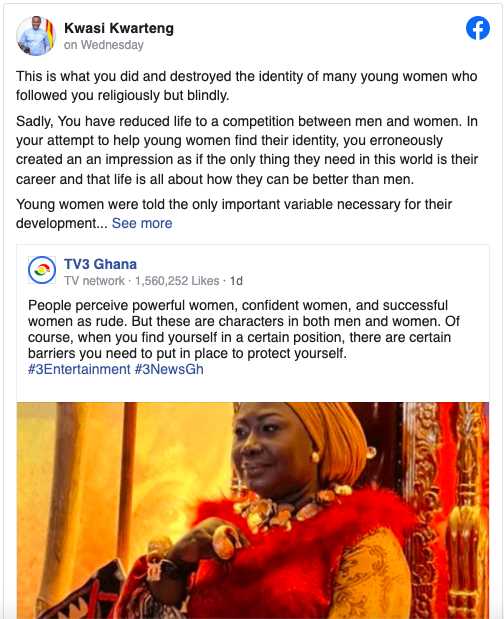 In the viewpoint of Mr. Kwarteng, her remark, in compilation to comparative comments in the past, has destroyed numerous women who were negatively inspired to have a rivalry tussle with men, in manners that gravely impacted their personal lives.
Be that as it may, the ace telecaster reserved her comments, as she decided not to remark on the words written by the Education Ministry representative and other online media pundits who shared their perspectives on woman's rights.
The women's activist personality says she won't respond to various online media analysis, despite the fact that she's enthused about women's freedom.
Talking in an interview with JoyNews' Paa Kwesi Schandorf on Wednesday, she expressed that she remains by her statement that men dread women with power and influence, but will however not offer feedbacks to opposing critics on social media.