Ghanaian actress Lydia Forson, who is known for expressing her genuine thoughts and tackling political issues for the most part via social media, asserted in a new tweet that despite the fact that Ghanaians don't request too much from the government, they are misrepresented in all facets.
Per her perspective, there are various significant needs like, fundamental human necessities the present government could provide, instead they opted to give us a cathedral and luxurious eateries, the normal Ghanaian can't bring themselves to afford.
In a new report, NsuomNam, among the most costly restaurants in Cantonments, was recently opened for business by President Akufo-Addo's daughter.
Stating her sheer disappointment at the needless undertakings, she wrote, "When you think about it, Ghanaians are not asking for much oh. Good roads, stable electricity, water, hospitals and just the basics for human survival.
Instead, we're getting a cathedral, expensive restaurants and real estate and everything else the average Ghanaian can't afford."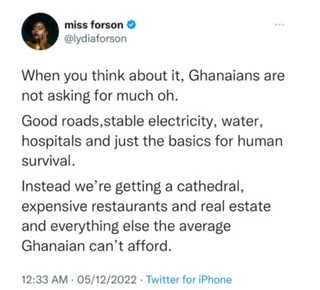 The actress is, and keeps on being one of the major critics of corrupt governance by politicians in the country. She has lived up to her status as a watchdog for a considerable length of time, and keeps on battling on behalf of Ghanaian citizens irrespective of which government is in power.
The female personality recently accused African pioneers of benefiting from the continent's underdevelopment.
Based on her opinion, individuals will eventually come to acknowledge why political leaders intend to keep their people poor.
Her remarks indicated that African leaders have profited from the pain and suffering of their subjects from the very beginning.