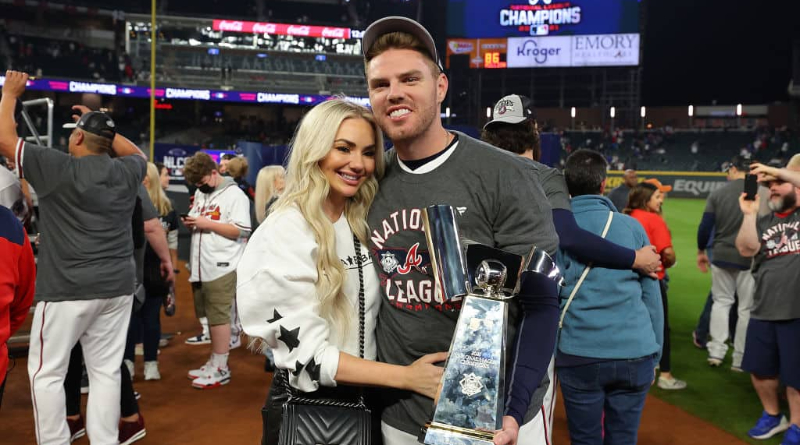 Freddie Freeman Wife: First baseman for the MLB, Freddie Freeman is a professional baseball player. Since his debut season in 2010, he has played his entire career for the Atlanta Braves, however he is presently a free agent. In his eleven years in the league, he has accomplished a lot.
He has won several awards, including a Golden Glove, three Silver Sluggers, two All-MLB Second Teams, one All-MLB First Team selections, the 2021 Babe Ruth Award, five MLB All-Star selections, the 2020 National League MVP, and the 2021 World Series title.
He is undoubtedly among the finest players available in free agency at the moment, and it won't take long for a team to sign the seasoned player.
Freddie Freeman wife: Chelsea Freeman
Since 2011, Chelsea and Freddie Freeman have been a couple, and they were wed in 2014. Learn more about his devoted wife before we delve into their connection in detail.
Pat Goff gave birth to Chelsea Marie Goff on April 24, 1991 in South Florida. Sadly, there is no information available about her father or her siblings.
Chelsea became interested in modeling from a young age. However, when she was a senior in high school, her mother forbade her from pursuing that vocation. She therefore chose the University of Central Florida for her college studies.
She finished her schooling and began modeling at that time. Her Model Mayhem biography states that she began receiving credit for her work in 2010.
She acted as a model for a variety of occasions, including the 2011 Spring Break Nationals, numerous auto shows, and magazine articles. She also collaborated with household names including Axe, Ferrari, Black Roberts Rum, and Harley Davidson.
Chelsea began working as a real estate agent for Keller Williams Real Estate soon after graduating. Her area of expertise is various houses near Atlanta, Georgia. Her real estate website states that some of the featured residences have values between $3 million and $8 million.
While still in college, Chelsea first met Freddie Freeman, with whom she later started dating in July 2011. After being together for more than a year, she relocated to Atlanta, where Freddie plays baseball for the Braves, and that is also where she began her real estate career.
SOURCE: Ghnewslive.com