The latest picture of Cristiano Ronaldo and Lionel Messi together, which radiates complexity and greatness, has staggered football fans and fashion enthusiasts. The two opposing forces have teamed up to originate a picture that will be etched in history for all eternity.
All through their distinguished professions, the two have set themselves up as legends in their field of specialty. Top-notch football players Cristiano Ronaldo and Messi, are in the headlines for their iconic sense of fashion.
The renowned footballers were sighted in impeccable outfit collections, giving us a definitive style point as they promote the brand of Louis Vuitton. Messi, a seven-time winner of the Ballon d'Or, appeared sophisticated in a round neck pullover with his sleeves rolled up to show his tattoo.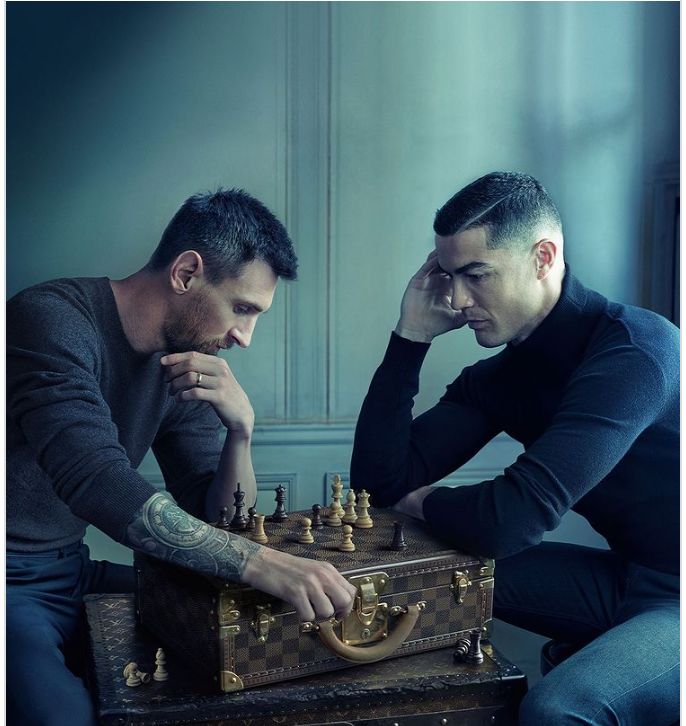 He complemented his style with fitting blue trousers. Cristiano Ronaldo, on the other hand, wore a black turtleneck long-sleeve pullover. He complemented his style with wonderfully fitted trousers for the historic photoshoot.
The two prime personalities, who have gone head to head against each other on previous occasions, seem focused on their game as they contended on a chess board designed as a suitcase with the Louis Vuitton logo.
Messi and Ronaldo gave their male admirers and fans, an overall view of haircut style for the holiday season, climaxed with the ongoing World Cup tournament, and new year with their wonderful looks. The amazing photograph was taken by expert photographer, Annie Leibovitz for the classy designer brand.
Numerous football fans have remarked on the photograph, as seen below;
therealfunnyface: THIS IS LEGENDARY !!
piques: Picture of a lifetime
realaar0n: Two goats with equal horns
drmiguelstanley: Woooooow!!! ❤️❤️ the best photo I've seen in a long time! Amazing @cristiano and @leomessi well done @annieleibovitz
georginagio: Iconic
433: Picture of the century