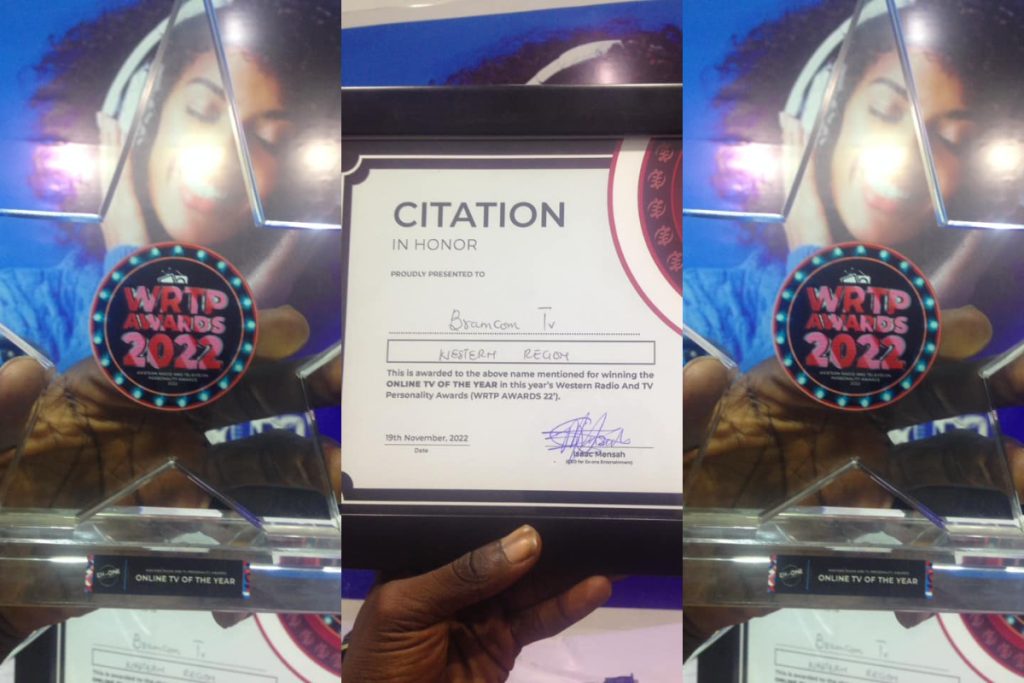 Bramcom Television was adjudged the Online Television of the Year for their hard work and dedicated local content they push during their broadcasts during the year under review.
Ex-One Entertainment is the organizer of the Western Radio and Television Personality Awards and Miss Western Ghana. Over the weekend, Saturday, November 19, 2022, the only well-accredited award scheme that is meant to motivate media personalities in the Western Region of the Republic of Ghana was organized to recognize their efforts.
Western Radio and Television Personality Awards is one of the well crafted and accepted brand in Takoradi. They seek to outdoor Media folks who are doing their ever best to project and market the region on the global market.
Bramcom Tv is one of the fastest-growing media entities in Takoradi. They are under the Bramcom Media Network, with Bramcom Radio Online as a sister station. They are a media company that is always concerned with the Western Region. Last year, Nana Ama Boadiwa from Bramcom TV won the award for "Best Online Television Presenter of the Year."
Read Also: T'di: Bramcom Media Network outdoors their newly built studio [Photos]
Bramcom Television was in the mood of expectancy to receive an award to add up to their archive in this year's edition. All anticipation were channelled to winning this category.
Read Also: WRTP'22: Bramcom Tv grabs nomination as the Best Online Tv of the year
According to post sighted by Westernghnews.com on social media, fans were lauding the brand for believing in Bramcom Tv and to also winning their category which was very challenging.
Others say, Congratulations to the team behind Bramcom Television for this great recognition. While some say, Bramcom Tv was not up to that standard to bag this award, those who believe in the brand are urging them to be calm and use their resources to turn things around.
King Solo is a big fan of Bramcom Media Network. This is what he wrote on his wall:

Challey, this year too they bagged an Award? Chai… the system is working. Sika mmp3 Dede Ampa!. Thank You EX-One Entertainment and the Team for believing in them. We will continue to make you proud! Pull more Takoradi contents for us.
The nominees for the Online Television of the year had Kofy Jesse TV , Bramcom TV, Adomba TV , Blazin TV Vicemen TV and Sefwiman TV.
Watch some of the stunning photos from the red carpet by some of the staff of Bramcom Television.