Female media star, Caroline Sampson has disclosed her profound affection for Black Stars' Coach, Otto Addo, by indicating that she has eyes for the good looking individual.
During Ghana's fierce encounter against South Korea, Caroline said she spent the entire time watching the Coach rather than the game.
After the game, she made a post about how attractive the Coach is.
Per her opinion, Otto Addo is her sort of man, and she is zeroing in on the 3 set of meals (intimate pleasures) she'll get to satisfy him with if she at any point, gets the opportunity.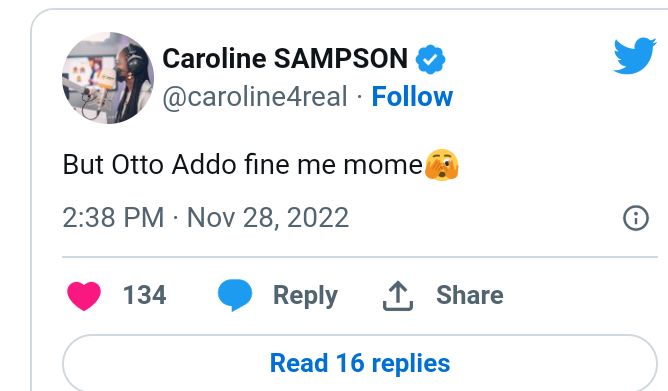 Miss Sampson made these disclosure on Twitter. Upon her revelation, some of her fans have cautioned her to relax, however, it's conspicuous that the Mother of one has deeply fallen for Otto Addo.
Caroline Sampson presently works as a Radio Broadcaster at Asaase Radio. She's additionally a Business masterminder who has her own diner called 'Chops and Flava'.
Mama Caro, as she is warmly called is single, and has a cute son called Jayden.