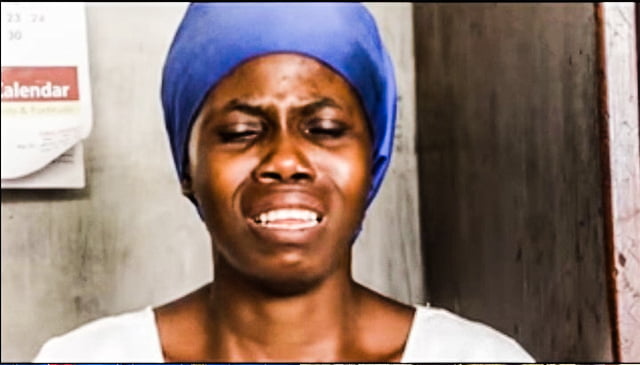 Linda Awuah ends up in Kumasi Female Prison after trusting her fiancé and his mother blindly because of love.
Linda Awuah's ordeal began when her younger sister who is just 16 years of age came to her with two other friends with an amount of GHS 6,000. The 16-year-old sister of Awuah and her friends claimed they saw the money on the streets and decided to bring it to her to keep for them or give it to its owner when found.
Read also: Pretty lady outsmarts her sakawa lover as she marries White client he asked her to chat (video)
Awuah agreed with what they said and took the money, thinking she could not keep such an amount of money, she took it to the mother of her fiancée, Amalia. The mother of her fiance then kept the money for about three months and later informed Linda that they should give the money to his son, Salifu (Linda's fiance) to buy a car for the Taxi business.
Salifu and Linda Awuah have a child, the idea seemed to be great, Linda initially didn't like that idea but because she loved Salifu and trust him, she was convinced that the taxi business will help them as well as make the money back, so she agreed.
Not more than a month, a man walked into Linda's house with his grandchildren who are also friends with Linda's younger sister. According to the man, the children made it clear that they have given the money they stole from him to Linda Awuah.
The granddaughters of the man said the truth that they stole the money from him because he made them go hungry, and the only way to get food is to steal from him to feed themselves.
After the children confessed that they stole the money, they also made it known that they only needed a place to keep it so that Linda's younger sister would be bringing them some when they needed it.
The plans of these little girls did not go well as Linda gave the money to Amalia. Linda was quickly taken to the Police and she told her story. The fiancé and his mother were also brought to the Police station.
Read Also: My Pastor Is Now Married To My Wife Of 12 Years: Aggrieved Husband (See Details)
The car which was bought with the money was locked up at the Police station. After 2 years, the case was taken to court. The man whose money was stolen insisted that the money was given to Linda so she must provide it. Since she had no money, she was jailed for 14 months.
The car was supposed to be sold to get her out of prison, but nothing was done. Her fiancé visited her once in prison, but Amalia never set foot there. Linda said that she regrets greatly trusting her fiancé and his mother. She advised young to work hard to make it in life, so as not to depend too much on men.