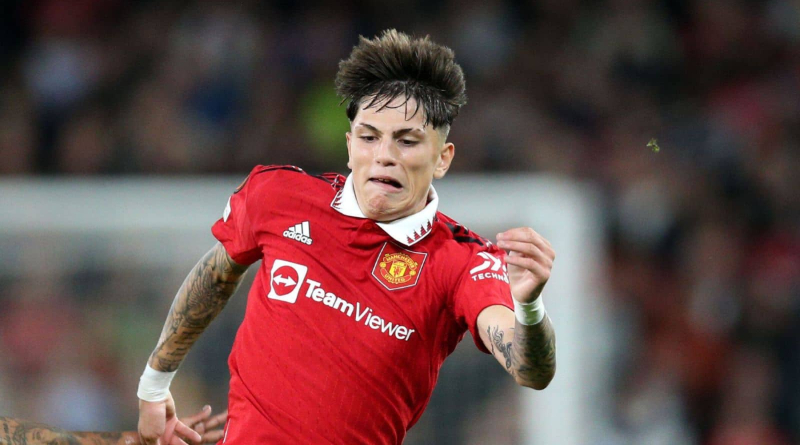 Alejandro Garnacho Biography
Alejandro Garnacho Ferreyra is a professional football player for Premier League team Manchester United. He was born on July 1, 2004. He is a young international for Argentina and was born in Spain.
In October 2020, Garnacho transferred from Atlético Madrid to Manchester United's youth system. In May 2022, he received the Jimmy Murphy Young Player of the Year award in addition to the FA Youth Cup. He had made his first-team debut against Chelsea in the Premier League the previous month at the age of 17.
Garnacho competed for Spain at the under-18 level before making his Argentina debut in 2022 at the under-20 level. Despite being called up to Argentina's senior team, he hasn't played.
Alejandro Garnacho Age
Alejandro is 18 years of age. He was born on 1st July 2004. He's an Argentinean.
Alejandro Garnacho Family
The internet has not yet revealed any details about his parents or siblings.
Alejandro Garnacho Height
He is 5 feet and 11 inches tall. That's about 180 centimeters.
Alejandro Garnacho Career
Atletico Madrid is where Ferreyra began his professional sporting career. Due to his outstanding performance, a lot of teams, including Borussia Dortmund, Manchester United, and Real Madrid, were interested in him. However, the Red Devils were successful in their effort to sign the promising player.
The 17-year-old began his career as one of the team's top prospects after enrolling in the Manchester United academy in 2020. He debuted in the mini-Manchester derby in October 2020 as a substitute. He scored an amazing solo goal for United's U18 team's opening score in a 4-1 FA Youth Cup triumph over Everton.
The Madrid-born winger has flourished for United's junior squad. He scored twice against Leicester City in the UEFA Youth League quarterfinal at Old Trafford, moving the Under-19s into the round of 16. He also took part in the Papa John's Trophy for United's under-21 team.
By scoring twice in Manchester United's 3-1 FA Youth Cup victory over Nottingham Forest in May 2022, the Argentinean teenager refuted his critics. The figures for Alejandro Garnacho speak for themselves. He led the team in scoring with seven goals and helped United win the FA Youth Cup for the first time since 2011. Since gaining notoriety, Ferreyra has won the hearts of many admirers and been praised by well-known world figures.
The young player was promoted to the first team by United's temporary manager at the time, Ralf Rangnick, in April 2022. Before making his Premier League debut against Chelsea, he didn't play for Norwich City, Liverpool, or Arsenal. Alejandro took over for Anthony Elanga in the 91st minute, but he made little impact as United and the Blues drew 1-1.
He also made a replacement appearance in their 2021–2022 season finale against Crystal Palace. Cristian, Garnacho, and Ronaldo The Argentine, who even refers to the Portuguese ace as the best football player in history, has nothing but admiration for him. Ronaldo scored a hat-trick to help United defeat Norwich 3-2 on April 16, 2022. Alejandro also received the match ball from him.
Alejandro Garnacho Net Worth
His estimated net worth is around $2 million.
Alejandro Garnacho Nationality
One of the players with a second nationality is Garnercho. His Argentine mother gave birth to him on July 1st, 2004, in Madrid. He is therefore entitled to choose between Argentina and Spain.
Alejandro Garnacho Salary
Ajeandro Garnacho makes around £1,500 per week which adds up to £78,000 per year.
Alejandro Garnacho Current Team
Garnacho joined Manchester United in 2020 from Atlético Madrid and is now a player for the team. Since joining Manchester United, the rising star has done well, earning a call-up to the Argentina national squad.
Alejandro Garnacho Instagram
Alejandro Garnacho is on Instagram with the handle @garnacho7.
Alejandro Garnacho Twitter
The Twitter handle of Ajeandro Garnacho is @agarnacho7.