Ghanaian actor, Akwasi Boadi who is widely known as Akrobeto is being applauded on the popular social media platform, Twitter.
This comes after his recent commercial advert for the German Bundesliga side, Borussia Dortmund. The advert is about the match that will happen at the Accra Sports Stadium between legendary players of Borussia Dortmund and Ghana.
Akrobeto was advertising the sale of tickets for the match and the video was shared on the popular social media platform, Twitter by the official handle of Borussia Dortmund.
The post was shared with the caption;
"Me ma wo aha Akrobeto…a dream come true! 😂👃🇬🇭"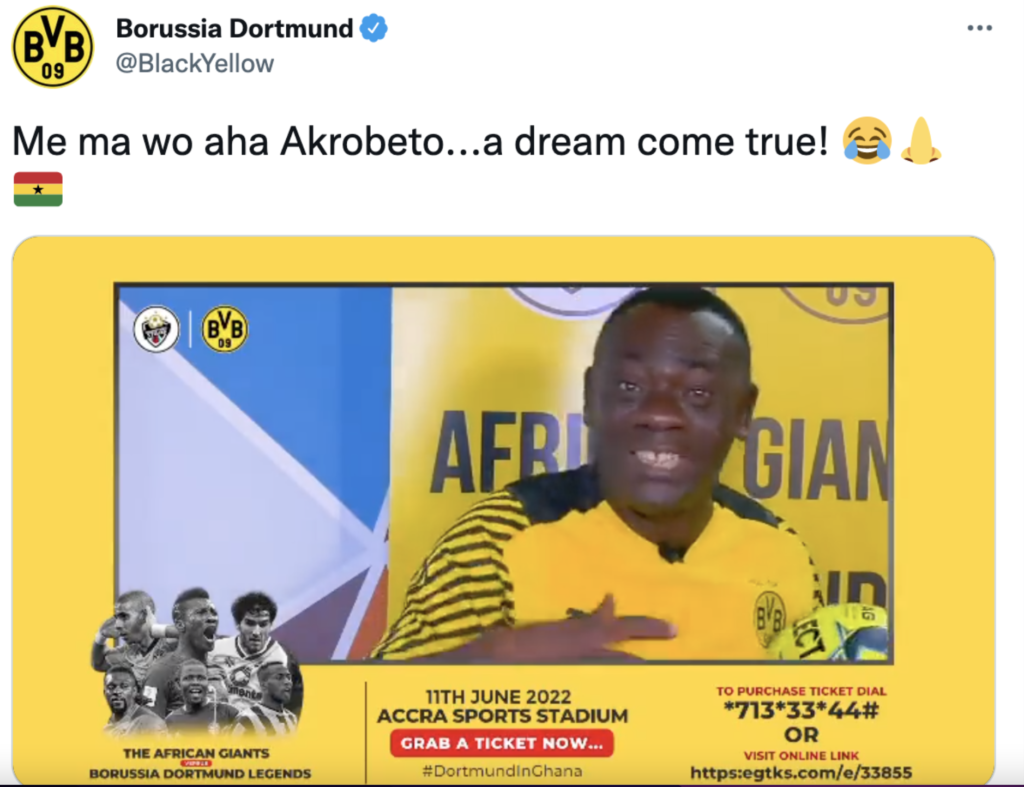 Watch the video below;
Some reactions the post got are;
@BlackYellow – We will need to work on the Borussia Dortmund pronunciation, Uncle Akrobeto 🤣
@opkwame88 – First of its kind. Black and Yellow legends vs Our Legend stars. 🔥🔥🔥
@Fs_BVB – Borsulika Dortmnd😭😭😂 I love this guy lol
@S1Gyamfi – All hail Uncle Akrobeto!
@KvngSolomon8 – Wow it's going to be exciting and interesting
@Betway_office – 😂😂💪 that's my man over there💥💥🎉🤗
@realNanaAppiah – You should have come to Kumasi. Anyways I enjoyed the katanga jama in the background
@manojkrng – Match commentary for this match should be given to him 👍
Source: www.ghnewslive.com