The long stretch of November was a groundbreaking month for Ghanaian socialite Afia Schwarzenegger, as she took a trip to Turkey to go through a progression of medical procedures on her body.
By a wide margin, she has gone through a successful hair transplant, a medical procedure to properly position her knee and dentition, and she is getting ready to go for her last medical procedure, a body sculpting surgery.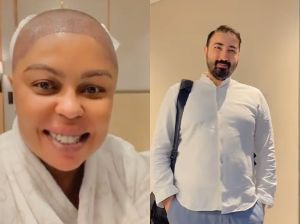 Afia Schwarzenegger shared every one of her arrangements to her fans on the web and has gotten back with an update of what she plans to do after she's finished with her last medical procedure on this trip.
A video Afia Schwarzenegger posted on her Instagram page sees her at the medical facility where most Ghanaian female stars go for liposuction and BBL procedures.
She was sighted wearing a clinical robe and stood close to famous expert professional, @Dr.Serkanbalta, the specialist who did surgical procedures on actress Kisa Gbekle and other noteworthy female celebrities.
Afia Schwarzenegger expressed without embarrassment that she planned to work on her body so she can mount pressure on ladies and slay queens on social media beginning from 2023.