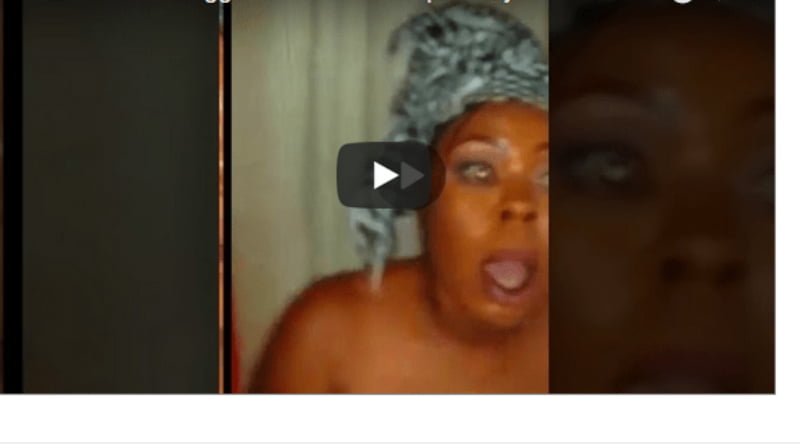 There was a video of

Afia Schwarzenegger

and her Husband circulating on social media as the man chases Afia with Acid after catching her with another man in bed.
Afia Schwarzenegger is one of the most popular actresses and television personalities in Ghana, she was in the news some years back after her husband allegedly caught her in bed with another man.
Her Husband whose name is Mr. Lawrence Abrokwa became more popular after recording a video after his cheating wife, in the videos that circulated on social media for some time, we saw the actress and comedienne Afia Schwarzenegger was seen wearing a headscarf and clad in a white towel trying to shield her private parts from the preying lenses of the camera.
She is heard screaming and wailing while her 'husband' quizzes her if 'that is how she is?' Mr. Abrokwah quizzes her further whether he married her to be engaged in infidelity.
In the course of the confusion, the actress made it known that she borrowed money to organize their wedding.
Read also: [+VIDEO]: Netizens Go Berserk After Afia Schwarzenegger Posts How She Starts Her Day Online…
Shortly after the incident, rumors were rife that the actress' marriage had hit the rocks.
Reacting to the rumors, the comedienne, born Valentina Nana Agyeiwaa, confirmed that she is no longer with Mr. Abrokwah.
The mother of three – third child adopted – posted on her Facebook and Instagram pages that she is single and ready to mingle.
"I am single…ready to date your father! Nice breast, nice ass, not for broke men….Massa gets a job and takes your eyes off my money," she said.
There were suggestions that "Massa get a job and take your eyes off my money," although she did not mention any names, is targeted at Mr. Abrokwah.
Afia Schwarzenegger and Mr. Abrokwah got married at a private ceremony on Saturday, October 22, 2016, inside a church at Florida Lake in Johannesburg in South Africa.
Ghnewslive.com has gathered that the video of the alleged infidelity was recorded on August 30, 2017, while Afia was with her new boyfriend.
Sources won't reveal the identity of the actress' new man but noted that the marriage between Afia and Mr. Abrokwah hit the rocks some months ago.
This website also gathers that both parties officially decided/agreed to annul the marriage about three months ago.
Another source close to the actress told Myjoyonline.com that, the comedienne sees nothing wrong with having s**x with another man since she was no longer married to Mr. Abrokwah.
The source said the incident was a clear invasion of Afia's privacy by her ex-husband.
Afia, according to our sources, has sought a restraining order against her 'ex-husband' while the divorce case is in court.