The Gitchie Manitou Massacre, which occurred in November 1973 at the Gitchie Manitou State Preserve in Sioux Falls, Iowa, is the subject of the Investigation Discovery program "No One Can Hear You Scream: Gitchie Manitou Massacre."
The authorities were finally successful in identifying the perpetrators because to information provided by a survivor. We've got you covered if you want to learn more about the incident, identify the perpetrators, and learn where they are right now. So, shall we begin now?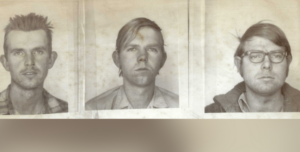 How Did Roger Essem, Michael Hadrath, Stewart, and Dana Baade Die?
In 1973, Roger Norman Essem, 17, Michael Robert Hadrath, 15, and Stewart W. Baade, 18, were all from South Dakota. They were friends and went to Washington High School in Sioux Falls, Minnehaha County, together. Dana E. Baade, Stewart's 14-year-old brother, went to school at the Patrick Henry Junior High School. On November 17, 1973, the four teens and Roger's girlfriend, Sandra Cheskey, who was 13 at the time, took Stewart's blue van and went into the woods on the Iowa-South Dakota border east of Sioux Falls. They didn't know that day would be one of the worst in Iowa's history.
Gitchie Manitou State Preserve was an undeveloped park in Iowa where people went hiking and underage teens had beer parties. Reports say that on the evening of November 17, the five of them went to the park to hang out around a campfire with guitars and marijuana. That was the last time anyone saw the four boys alive, and Sandra was sent home after being taken hostage and raped by the people who killed her boyfriend and his three friends.
On November 18, a couple driving their new car through the park found the bodies of the Baade brothers and Michael. The next day, Roger's body was found at the camp site. The medical examiner did a preliminary check and found that all of them had been shot with shotguns. The autopsy reports said that the victims had been shot from close range because their bodies had big holes in them.
Who Killed Roger Essem, Michael Hadrath, Stewart, and Dana Baade?
Investigators found spent shell casings from 12-, 16-, and 20-gauge shotguns at the scene of the crime. So, they figured out that they needed to look for three killers. They also noticed that Stewart's 1967 blue van wasn't at the scene, and they told the right people to keep an eye out for it. If not for Sandra, the only one left alive, all of them would have turned out to be dead ends.
Sandra came forward to talk about what happened on November 17 after she found out that all four of her friends were dead. She told how they were relaxing by the campfire when they heard noises and Roger went to see what was going on, only to be shot. Then, three men who said they were drug officers came up to the group. They then walked them away from the campsite while holding guns to their heads, and one of them forced Sandra into their truck.
Sandra said that was the last time she saw her friends alive. Investigators thought that the boys were killed by the remaining killers while Sandra was taken to a farm near Hartford by one of them. About an hour later, the other two men joined them. One of them then sexually assaulted her, and then one of the killers drove her home because he felt sorry for her because she was only 13.
Sandra helped with the investigation by telling the police over and over again about the horrible details, and she even went with them in their cars to look for the people who did it. She also helped the police make rough drawings of the murderers. Sandra saw a big red gas tank on a farm on November 29, 1973. She knew the tank because she remembered very clearly that the killers had filled up the gas tank of their car at the farm where she had been taken that night.
Sandra was watching the tank when she saw a person driving the same truck she had been taken away in about 12 days earlier. She called the police right away. Allen Earl Fryer, who was 29 at the time, was caught by police, and so were the other two people who did it. David Fryer, 24, and James Fryer, 21, both from Sioux Falls, South Dakota, were later found to be them. The men were charged with four counts of murder on December 1, 1973.
Allen, David, and James Fryer: Where Are They Now?
Investigators found out that Sandra was taken by Allen, and James was the one who raped her. Allen then drove her home, even though he had told his brothers that he would get rid of her. Sandra was the main witness for the prosecution. She was a big reason why all three of them were found guilty. On May 20, 1974, Allen was found guilty of first-degree murder four times and given four life sentences.
David had already admitted guilt on February 12, 1974, to three counts of murder, one count of manslaughter, and an open count of murder. He was given a sentence of life in prison without the chance of getting out. Allen and James got out of jail in Lyon County, but they were caught in Gillette, Wyoming. James was found guilty of three counts of first-degree murder and one count of manslaughter on December 30, 1974.
James was already sentenced to life in prison without the chance of parole, so the District Attorney decided to drop the rape charge so Sandra wouldn't have to go through a trial for rape. According to official court records, Allen is currently in prison at the Iowa State Penitentiary in Fort Madison, Iowa. His two other brothers are serving their time at the Fort Dodge Correctional Facility in Fort Dodge, Iowa.
On the evening of November 17, 1973, five teenagers from Sioux Falls, South Dakota, went to Gitchie Manitou State Park to hang out under the night sky. It was a short drive, just across the border into Iowa, which is close by.
By the next morning, four boys were dead and a girl had been raped. It was one of the worst crimes in Great Plains' history, and it left a bloody, painful, and ugly mark that has never gone away.
The mass murders were three times as bad because Allen Fryer, 29, David Fryer, 24, and James Fryer, 21, all had cold hearts and did what they did.
Authorities told the Oxygen show "Killer Siblings," which airs Saturdays at 6/5c and is called "Killer Siblings," that the siblings came to the park with shotguns and "played off each other" to make things worse.
Stewart Baade, 18, his brother Dana, 14, Mike Hadrath, 15, Roger Essem, 17, and Sandra Cheskey, 13, who was dating Essem, went to the wooded park preserve on the South Dakota-Iowa border to hang out around a crackling campfire. The Argus Leader said in 2013 that they had brought guitars to play and a joint to smoke. They were just going about their own business.
A 2014 article in the Estherville News says that the next day, a couple taking a car for a test drive in the park preserve was shocked to find the bodies of the teens.

Sandra Cheskey
The mass murder was very rare in this area, so law enforcement and a "army of investigators" worked together to find out what happened. Agents from the Iowa Division of Criminal Investigation, which is also called the state's "Detective Bureau," worked with the South Dakota Police Department.
Investigators looked over the crime scene, which was full of leaves. Investigators said on "Killer Siblings" that the teens' large bullet holes showed that they had been shot with shotguns at "close range."
It was determined that the empty shells came from 12-, 16-, and 20-gauge shotguns. Investigators thought it was possible that there were not just one but three killers.
Authorities also knew that Stewart Baade's 1967 blue van, which he and four friends had used to get to the preserve, could not be found. Urgent efforts were made to find the car, but all the leads turned out to be dead ends.
Cheskey, who was the only one of the group to get away, told police about what happened the night of the deadly shooting. She said that while they were partying, they could hear twigs breaking far away.
When Essem went to see what was making the noise, the whole night took a sad turn. He was shot, and he fell down. Then there were more gunshots.
Both Stewart and Hadrath got hurt. The Fryers then came out of the darkness and lied that they were police officers there to catch them with the marijuana.
The investigation showed that the brothers with guns had come to the wooded preserve to steal deer. When they saw the teens having a party, they started to look for them and their pot.
One of the three men told Cheskey to get into his truck. This man called himself "the boss," and it turned out to be Allen. The last time she saw her friends still alive was then. Investigators thought that the Fryers who were still there when she left lined up the teens and killed them.
After driving around with Cheskey, Allen met up with his brothers at a farm, where James sexually assaulted Cheskey.
Allen took Cheskey home after the rape. He told her that if she told anyone what had happened, he would kill her. The next morning, she found out that her four friends had died, so she got over her fear and went to the police.
Cheskey helped the police by telling them about the men and their truck. She rode with the police all over the area as they looked for the farm where she'd been hurt.
Investigators were able to draw sketches of the suspects based on what Cheskey said about them. They were passed out, but they didn't lead to any good leads. As time went on, detectives became worried. They told the producers, "It did seem hopeless."
On November 29, officials finally got the break they had been waiting for. Cheskey saw the farm where she was raped while on a ride-along. As the police were looking into it, Allen drove by. Cheskey screamed, "That's him! That's the boss!" at the time, she told producers.
Cheskey was able to pick out the killers from a group of people, where she found out that the three men were brothers. "It blew my mind," she told the producers.
The New York Times reported on November 30 that three brothers were caught without a fight and charged with killing four Sioux Falls teenagers with a shotgun on November 17.
The suspects in the murders got a face. There was a lot of trouble in the family, and many people were violent. The three brothers were known by their father as his "chore boys." They all thought like a group.
Phil Hamman, who wrote two books about the crimes and told producers about them, said, "When they were together, they were criminals." "The only thing that mattered to the Fryer brothers was what they could steal next and who they could go out and shoot next."
After they were arrested, the Fryer brothers blamed each other to get out of trouble. "Each blamed the other for pulling the trigger," investigators told the show's makers.
James had gotten in trouble with the law and was in jail at the time of the murders. He tried to use that as an excuse, but it didn't work because he got out of jail on November 17 because of a work release program. He could have been with his brothers at Gitchie Manitou State Park.
Three months after the murders, in February 1974, David was the first sibling to stand trial. He was found guilty and given a sentence of life in prison without the chance of getting out.
After three months, a judge found Allen guilty of four counts of murder and gave him four life sentences. After this, Allen and James got out of jail and ran away. They were on the run for almost a week before they were caught.
But in December 1974, a court found James Fryer guilty of first-degree murder and manslaughter and gave him a life sentence. The court case was done.
The brothers Fryer who killed together still live together. The Iowa State Penitentiary in Fort Madison, Iowa, is where they are doing their time.
CREDIT: https://www.medadmbjmc.in/