Nigerian man has taken over the internet after his story of building a house with 14,800 plastic bottles was shared online.
Friday, August 27, 2021, at 11:45 PM by Nurudeen Lawal – A trail-brazing Nigerian engineer, Yahaya Ahmed, has used plastic bottles to build a house with three bedrooms, a toilet, and a kitchen – Ahmed said the house is 20 times stronger than houses built with brick walls and can last up to 300 years – The engineer said he was motivated to come up with housing initiative in a bid to reduce the volume of plastic polluting the environment.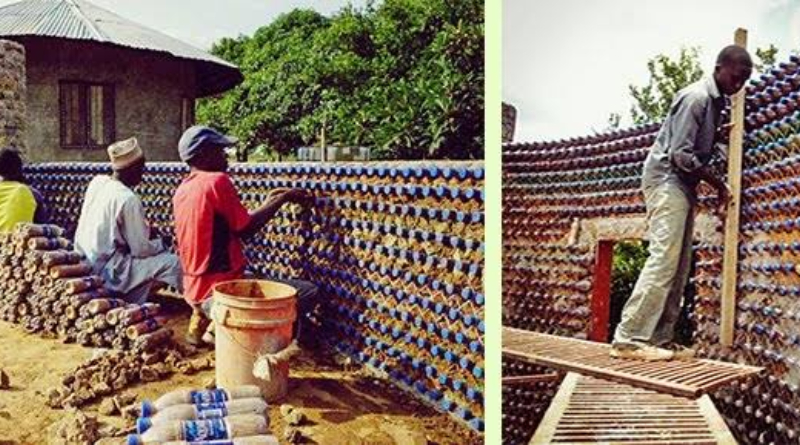 Yahaya Ahmed, a Nigerian engineer, has built a house in Kaduna using 14,800 sand-filled plastic bottles as bricks. Premium Times reports that Ahmed is the director of a non-governmental organization, Developmental Association of Renewable Energies in Nigeria (DARE).
READ ALSO: 'God Doesn't Want Men To Understand Women & That's Why He Made Adam Sleep Before He Created Eve' – Popular Nigerian Pastor
Ghnewslive gathers that the engineer said the house was built by his organization to encourage recycling of waste materials, create jobs and ensure a safer environment in Nigeria
Explaining the process of building the house, Ahmed said workers filled the plastic bottles with sand and linked them at the neck by an intricate network of strings. He said the building is the first of its kind in sub-Saharan Africa, adding that it is cheaper to build because the building materials are available on the streets and in trash dump centers.
The house has three rooms, a toilet, and a kitchen. In terms of strength and durability, Ahmed said the house is "20 times stronger than brick walls houses and can last for over 300 years if constructed properly and carefully."
According to him, the building is fireproof, bulletproof, earthquake-resistant, and can adapt to all kinds of climate changes. Ahmed said anyone with masonry skills can be used as labor in the construction of one building, adding that his organization has trained many youths.
Why build a house with plastic bottles? Ahmed said the motivation for the initiative is to reduce the volume of plastic that is polluting the environment and causing diseases and other disasters.
In his reaction to the building initiative, the assistant director of African Climate Reporters, Piman Hoffman, urged the Nigerian government to support renewable energy companies to save the nation from the increasing threat of waste pollution. He noted that plastics are a big threat to the existence of humans, animals, and all living organisms
A Nigerian, Engr Yahaya Ahmed builds house with 14,800 plastic bottles in Kaduna. pic.twitter.com/7fA7RwfU2n

— Association Of Housing Corporations Of Nigeria (@officialAHCN) January 26, 2021
SOURCE: www.ghnewslive.com