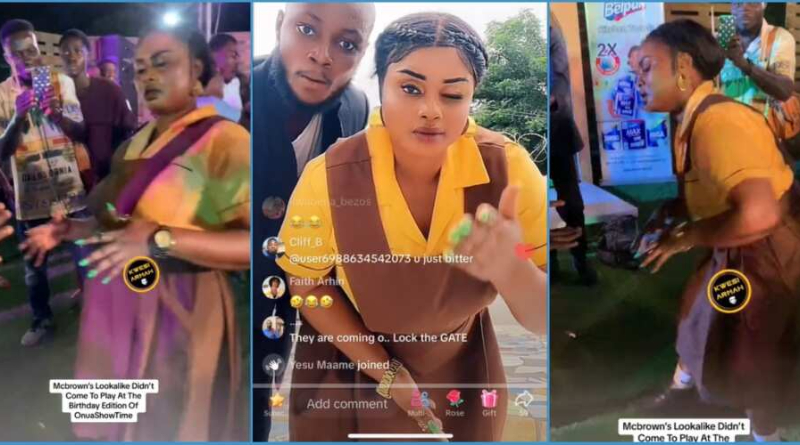 The latest trend captivating the media space is the LookAlike Mania, where individuals claim to resemble popular celebrities and have started to emerge one after another.
Among these lookalikes, some young men have been garnering attention by portraying themselves as doppelgangers of well-known figures such as Medikal, King Promise, Kuami Eugene, KiDi, and even sports personalities like Stephen Appiah.
In recent days, these individuals have taken social media by storm, sharing videos that showcase their uncanny abilities to mimic the behaviour, speech, walk, and sometimes even the fashion style of the celebrities they resemble.
This trend has piqued the curiosity and amusement of social media users, adding an element of entertainment and fascination to the online space.
The newest addition to this trend is the 'Nana Ama Mcbrown lookalike.' A fair-skinned young lady, who shares striking beauty similarities with the Screen Goddess Mcbrown, has been brought into the spotlight by Robest GH, a self-proclaimed King Promise lookalike.
In recent days, this lady has showcased herself and imitated the versatile Empress Mcbrown in various ways, even going as far as wearing her famous 'government uniform,' locally known as the 'Aban Jersey.'
While King Promise gifted his lookalike a Hisense mobile phone and garnered considerable attention, Nana Ama Mcbrown seems uninterested in offering such recognition to anyone who impersonates her.
During one of the episodes of her show, Onua Showtime, Nana Ama Mcbrown took a moment to address the trend of lookalikes and share her perspective on it. While not mentioning her "lookalike" directly, she made subtle comments that seemed to be directed at those who mimic her.
Sarcastically, Nana Ama Mcbrown joked that the lady on social media who was presenting herself as her lookalike should formally request permission before she could be recognized as an official and certified lookalike. She playfully added that unless she personally chooses you, you can't truly be like her.