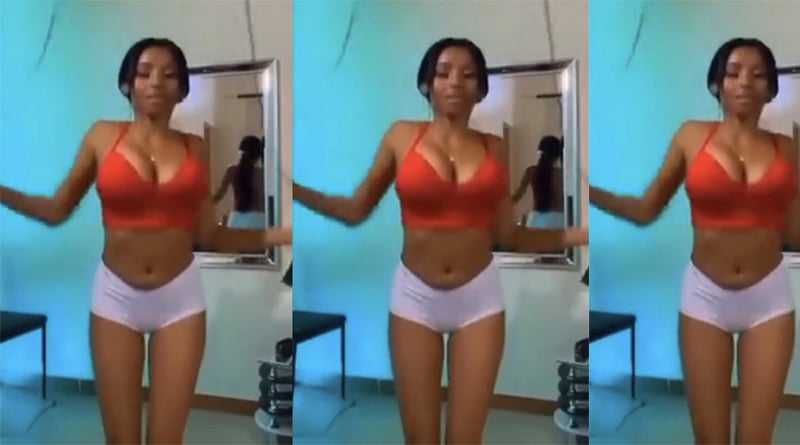 We have sighted a news

video

of a moment an endowed lady with a very huge breast was playing skipping road in her kitchen.
There are so many things Ladies nowadays do that go against most of the Ghanaian cultural values but they are being normalized by so many people in the country. This lady we are talking about was playing with her a skipping rope while shaking her "nufuo" in her brassiere which caught the eyes of many.
She was happily jumping up and down and her front side was also doing the same.
The pressure on the internet nowadays is the reason why men are hardly showing their partners loyalty.
In other news, A Lady claims Men who spend most of their time in the kitchen have weak manhood and are poor in bed.
It seems most of our radio stations have lost the touch when it comes to the maintenance of a high reputation, as they allow some utterances to be aired. A lady whose name hasn't been disclosed decided to walk through the doors of an FM station after being invited. During the conversation, she decided to share with listeners her take on the men she prefers.
There is no problem with this conversation till you realize her choice of words. Children are around and listen to what we say so, we must know how to present our words very nicely. Profanity shouldn't be tolerated in our media houses.
This lady in her presentation made a shocking revelation about men. The link to the video can be found over here. This lady claims a man who spends most of his time in the kitchen isn't a man you should look up to. She claims such men are only going to waste your time in bed since their mind is always fixated on food.
All this while, I was thinking offering these services made one a husband material, not knowing some girls see it as a turn-off. Why will I decide to reduce the burden on you by lending out a helping hand only for you to see that as a weakness? What is the relationship between being a chef and bedroom performance? What does this lady really want?