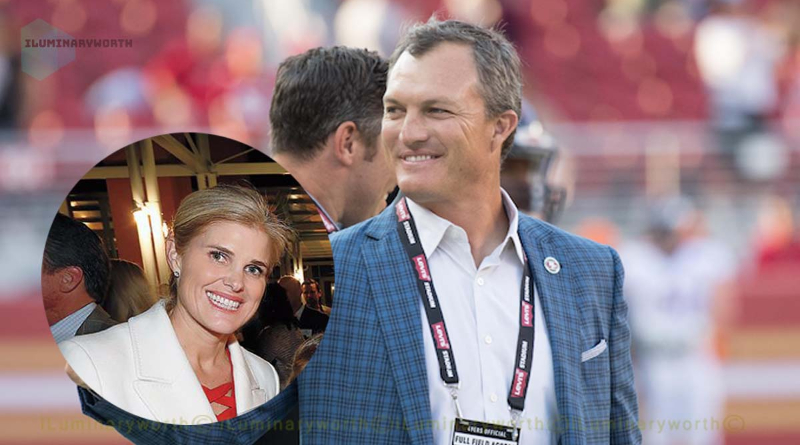 John Lynch Wife Linda Allred, is the sister of John's best buddy, retired NFL tight end John Allred. Linda rose to prominence after marrying the current San Francisco 49ers general manager, who previously played football.
You may not have heard anything about John Lynch's wife because little is said about her.
John Lynch Wife Linda Allred Lynch
Linda Allred Lynch, John Lynch's wife, is the daughter of Ann and Douglas Allred. She is the well-known sister of ex-NFL star John Allred.
Linda Lynch's early years and family history are unknown because she rose to prominence after marrying NFL player John Lynch.
Dough Allred Jr., David Allred, Richard Allred, and John Allred were her siblings who made her life easier because she had someone to keep her company. Linda Allred attended and graduated from the University of Southern California, where she also played tennis.
Additionally, she had a brief semi-pro tennis career.
Linda Allred Lynch Career
While her husband is on the pitch, she is on the sidelines getting everything in order so that she can be a good support to him.
As a result, Linda Allred Lynch has accomplished a great deal.
Linda co-founded Fisher Lynch Capital in 2003 and served as Managing Director until 2016, when she was promoted to Senior Advisor. The John Lynch Foundation's vice president at the moment is the philanthropist John Lynch wife.
She is currently a Co-Founder and Managing Director of Boston-based Winthrop Square Capital and continues to offer strategic management of FLC's heritage fund-of-fund portfolios.
SOURCE: www.ghnewslive.com