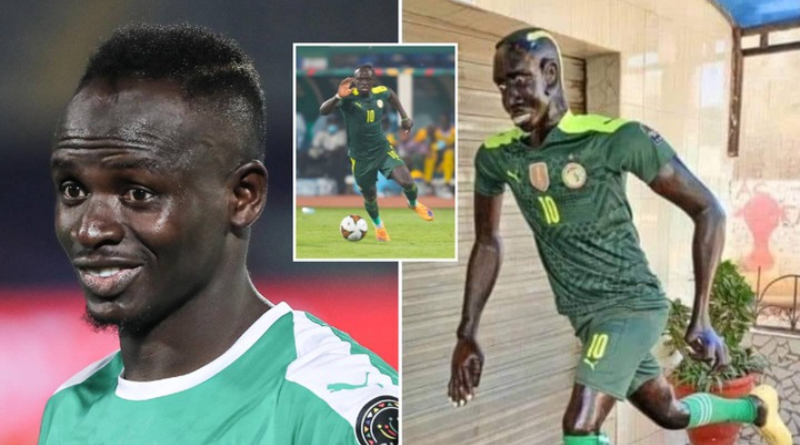 A statue of Senegal international Sadio Mane has been spotted in his hometown of Bambali.
In Bambali, a town in southern Senegal, the 30-year-old forward, who joined Bayern Munich in the summer after six years at Liverpool, continues to do amazing work.
Mane gave substantial donations to help the isolated village's conditions, including £500,000 for a new hospital. More recently, he reportedly contributed £200,000 for the building of a new secondary school.
On top of that, he is said to have funded a fuel station and a post office to help locals.
To pay tribute to his hero-like status in the local community, a Senegalese artist has designed and built a statue of Mane which apparently shows him performing a celebration during the 2021 African Cup of Nations.
A picture of the statue in Bambali has been doing the rounds on social media in recent days.
One fan commented: "It's not the best, but it's made from the heart I guess," while another wrote: "Nice body work but on the face, let them replace it with a better head. Anyway, wood maybe hard to work with, I think."
A third said: "It's all about recognition. Not everyone will have the privilege of being recognised and honoured like that."
What's your thoughts on Sadio Mane statue in Senegal? 🇸🇳 pic.twitter.com/mdMfT1CGZ5— Frank Khalid (@FrankKhalidUK) November 5, 2022
Several of the greatest athletes in the world, like Erling Haaland of Manchester City, have received statues in their honor.
The excellent forward, 22, received a sculpture as a reward for his accomplishments that, let's face it, only faintly resembles him.
The sculpture was created by Norwegian artist Kjetil Barane with a chainsaw at lgrd, which is close to Haaland's hometown of Jaeren in southern Norway.
"It is a great honour for me to be allowed to make him as a sculpture, it's really tough," Barane told Norwegian outlet NRK.
"It is very nice to work with wood. You can see that it bursts and lives, it gets its own character," he added, pointing to cracks in the wood on the striker's head.
Haaland new statue in Norway 😭😭 pic.twitter.com/t6amt0luJp— Sourav🔰 (@Sourav_Mufc) May 6, 2022
But weeks later and the statue was reportedly stolen after a disgruntled fan used a crane to remove it in the middle of the night.