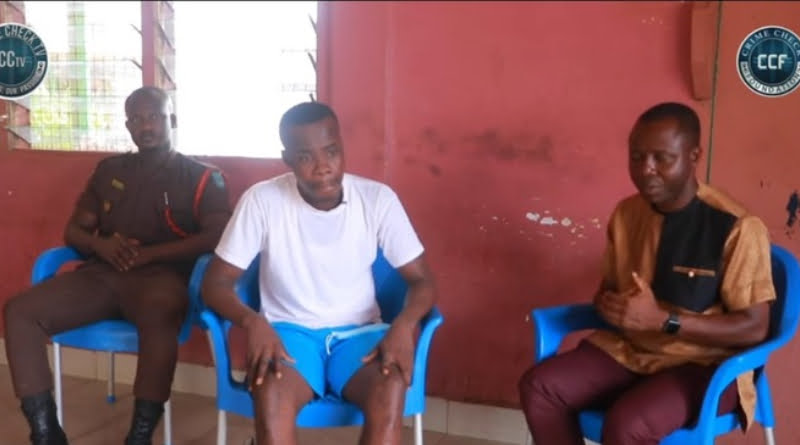 Have you ever heard of this story about the former Black Stars player

Frank Acheampong

's colleague who was imprisoned?
Today's story about former Black Stars Player Frank Acheampong's colleague is very sad but you need to learn from it as well.
God created everybody in this world according to His image but he gave free will to each one of us on earth. Though everybody will be accountable for his or her deeds, how to live your life depends personally on every individual.
READ ALSO: I've tried wee, cocaine and every drug you can think of – Dhat Gyal Reveals
A fine gentleman has narrated his story with Crime Check Foundation and has made many revelations. According to this young man called Baafi, he started his life well until he joined his colleagues to smoke weed. When he started smoking weed, he became very addicted and decided not to stop but rather do it in high grades.
He said he then went to Accra to stay with his elder sister but along the line graduated from weed to cocaine. What made him do cocaine according to him is that anytime he goes to buy weed he sees a lot of people who are very high in a different level as compared to him.
READ ALSO: Check Out The Trending 'Mansion Casket' Made By A Ghanaian
So he made up his mind to know the exact thing they are doing that makes them go high like that. That was when he got to know it was cocaine so he then started doing cocaine. He said whenever one becomes addicted to cocaine and he or she doesn't have money, what the person will do is steal and get money to buy the drugs.
That was how come he landed himself in prison. When he got there it has dawned on him that doing drugs will not add any benefit to his life. He made some revelations that those that are selling the cocaine have always dressed neatly but they that are buying the drugs are looking dirty without anything good coming from them.
Because of that, he has made up his mind not to do drugs again but to concentrate in life to see what God will do in his life. He also made another revelation that talented former black stars and Shenzhen F.C player Frank Acheampong were his teammates in Asante Mampong.
He said they were all playing in the same team called Mighty Stars before Frank's luck shine and got the chance to play abroad. The good news is that he has been granted bail so he told Mr. Ibrahim Oppong Kwarteng that, as he is going out he is going to focus on his football career.
It will be very nice if he truly stops the drugs and focuses well in life because there is nothing impossible in the sight of the Almighty God