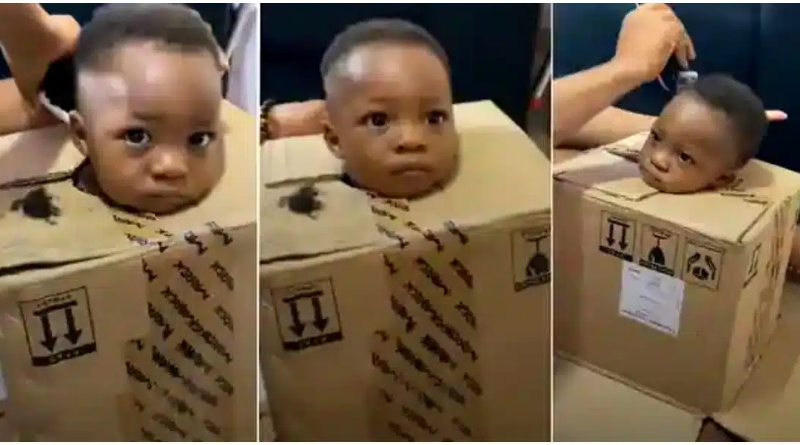 A dissatisfied father created an ingenious method to keep his son in a fixed position in order to barb his son's hair.
The baby boy's father was identified on Tiktok as @kelechianthony475 and has been praised by social media users for devising a clever strategy to keep his youngster steady in order to barb his hair.
The youngster was placed inside a box with a hole at the top where his head was occupied in the video published by the father on Tiktok. He was spotted sitting peacefully as his father clipped his hair.
READ ALSO: A woman with several piercings on her face, colored teeth & excessive makeup causes a stir (Video)
Read some social media comments.
@Tete commented, "I don save am for fun reference."
@Omerebere reacted: "See update ooo."
@sweedypresh30 commented: "See the way he da shine eyes."
@NASA'S SIGNATURE said: "I shouted JESUS, this gen z no like stress."
@palacsh nonih reacted: "The boy eyes seff still dey promise in mama further problem after the hair cut."
@userpeecharles commented: "For the boy to even stay there so quietly without crying and struggling to come out shows he is a calm boy. My son will pull himself out."
@Wesley Kevin said: "You feel say you dey wise, a child that refuses to let the mother sleep himself will not sleep."
SOURCE: www.Ghnewslive.com