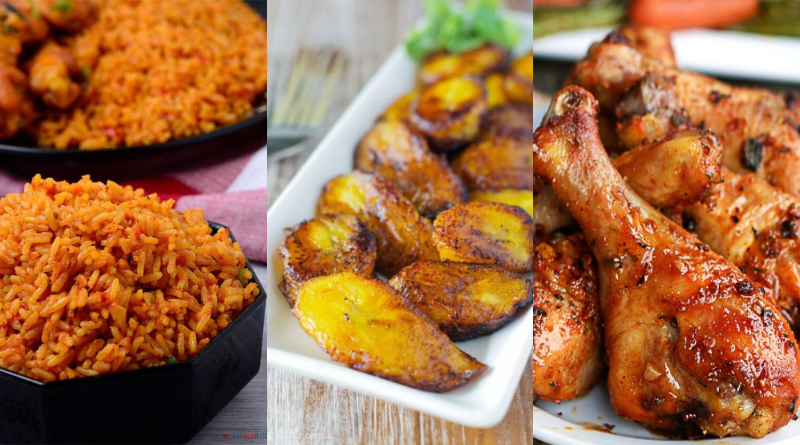 Nigerian Jollof Rice is one of the most talked about food in Africa, here is the recipe for preparing it with chicken and fried plantain.
The flavors of chicken and rice are enhanced in this classic Nigerian recipe. In order to create a nice aromatic background for the rice, chicken is first sautéed on the stovetop. Serve jollof rice with fried plantains for an extra wonderful and authentic touch.
Let's start by listing the ingredients for preparing Nigerian Jollof Rice with Chicken and Fried Plantains
Chicken:
2 pounds chicken drumsticks
½ large onion, diced
1 (2 inch) piece fresh ginger root, peeled and thinly sliced
2 cubes chicken bouillon, crushed
2 cloves garlic, diced
1 tablespoon curry powder, or more to taste
1 teaspoon herbes de Provence
freshly ground black pepper
1 pinch cayenne pepper
1 cup water
Rice:
3 tablespoons vegetable oil
½ large onion, diced
1 (14 ounce) can tomato sauce
1 (14 ounce) can coconut milk
1 teaspoon herbes de Provence
1 teaspoon salt, or to taste
½ teaspoon ground black pepper, or to taste
3 cups parboiled rice (such as Uncle Ben's®)
1 (10 ounce) package frozen mixed vegetables (carrots, corn, peas)
Plantains:
4 ripe plantains, peeled and cut diagonally into 1/2-inch slices
½ cup canola oil for frying
>> Now below are the steps you need to follow
Step 1
Place chicken drumsticks in a large Dutch oven over medium heat. Add 1/2 onion, ginger, crushed bouillon cubes, garlic, curry powder, 1 teaspoon herbes de Provence, black pepper, and cayenne pepper. Mix well. Cook until chicken starts sticking to the bottom, about 5 minutes. Pour in water, mix, cover the pot, and bring to a gentle simmer; cook for 15 minutes. Remove from heat.
Step 2
Transfer chicken to a baking dish using a slotted spoon. Strain cooking liquid through a fine-mesh sieve. Reserve 1 1/2 cups liquid. Discard solids.
Step 3
Preheat oven to 400 degrees F (200 degrees C).
Step 4
Bake chicken in the preheated oven until no longer pink in the middle and the juices run clear, about 30 minutes. An instant-read thermometer inserted into the thickest part should read 165 degrees F (74 degrees C).
Step 5
Heat 3 tablespoons vegetable oil in a large pot over medium-low heat and cook 1/2 onion until soft and translucent but not browned, about 5 minutes. Add tomato sauce; cook and stir until slightly thickened and infused into the oil, 5 to 7 minutes.
Step 6
Stir reserved chicken broth, coconut milk, 1 teaspoon herbes de Provence, salt, and pepper into the pot. Bring to a simmer; add rice. Cook, stirring often, until rice is almost tender, 15 to 20 minutes. Add frozen vegetables and continue cooking until rice is tender and creamy about 5 minutes.
Step 7
Heat 1/2 cup of canola oil in a nonstick pan over medium heat. Add plantains and fry on both sides until golden and crispy, about 2 to 3 minutes per side. Drain on paper towels. Garnish jollof rice with friend plantains and serve with chicken.
Cook's Notes:
You can substitute coconut milk with plain water. This is another variation of jollof rice, with less calories.
You can also finish cooking the chicken either on the barbeque (grill) or fry in oil until crispy.
Source: www.ghnewslive.com