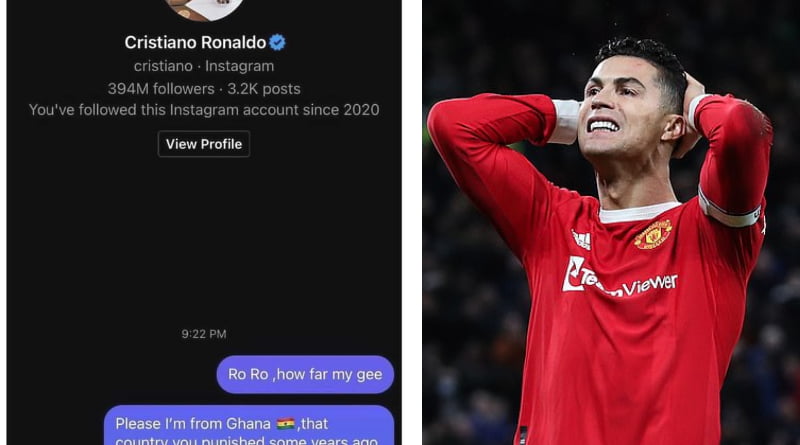 A social media user has been on top of today's trends after his message to Cristiano Ronaldo over GFA's Comment got leaked.
A Ghanaian trend together with Cristiano Ronaldo, follow this article to know why. The ongoing AFCON has seen so many surprises as most big teams are falling out of the competition, Ghana was kicked out after Comoros beat them by 3 goals to 2. After the match, many Ghanaians were angry about the Black Stars performance throughout the group stages.
SEE ALSO: Sammy Gyamfi Chooses Between Messi And Ronaldo, Now Social Media Is On Fire
The exit of Ghana Black Stars from the AFCON has seen the dismissal of their head coach who was recently appointed to lead them to glory in both the AFCON and the WORL CUP if possible.
Now the case on the table is that the GFA Boss angrily replied to Ghanaians for saying he has been calling the wrong players and has been also dictating for coach Milovan. Ghana seemed not to be happy with some of the players the Ghana Football Association has been calling to lead the team, most especially the Ayew brothers.
READ ALSO: Mind-Blowing 2021 Goal-Scoring Stat Between Lionel Messi And Cristiano Ronaldo
After the exit of Ghana, the GFA boss has come under the spotlight following the national team's disastrous showing in Cameroon. As many Ghanaians criticized the squad selection process, Kurt Okraku who is the GFA Boss also believes the country's best available players were the ones picked.
He made it known that if Ghana had a player as good as Cristiano Ronaldo of Lionel Messi somewhere, they would be invited to the Black Stars.
READ ALSO: Ghanaians Shocked After Seeing A Video Of Dede Ayew Sprinkling A White Powder On The Pitch Before Their Match
"The players who represented Ghana are the best players we have… if there is a Ronaldo or Lionel Messi type of player somewhere who will move straight to our first eleven, just let me know and I will include him," he said on Skyy Power FM.
In a separate interview with Asempa FM, the FA President rejected claims that Milovan Rajevac's squad selection was influenced by external forces.
Now a Ghanaian has taken this comment" if Ghana had a player as good as Cristiano Ronaldo of Lionel Messi somewhere, they would be invited to the Black Stars" from the GFA Boss seriously as he personally messaged Cristiano Ronaldo on Instagram for his number so Ghana can have him join the team for the upcoming world cup.