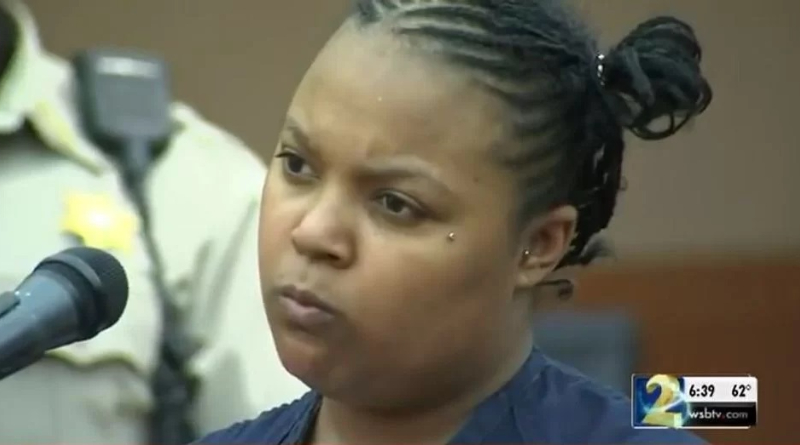 Who Is Lamora Williams?
Lamora Williams, 24, appeared in court for a status hearing before her trial, which is set to begin in January. Last October, Williams allegedly killed her two kids, one-year-old Ja'Karter and two-year-old Ke-Yaunte Penn, by placing them in a hot oven.
Lamora Williams, an Atlanta resident, rose to prominence in October 2017. Why did she become a topic of discussion? Her children were ruthlessly murdered by her. Continue reading to learn everything there is to know about this double murder case.
Williams' family thinks she has always been unstable, which was aggravated by their father abandoning them and maybe postpartum depression.
Williams' sister, Tabitha Hollingsworth, said her sister's behavioral and emotional troubles began when she was young, and she recalls Williams attempting suicide.
Brenda Williams, Lamora Williams' mother, reported that her daughter was a slow learner who had to be pulled out of public school and homeschooled.
When she was 18, she had her first child, a daughter. Williams received aid from relatives of her daughter's father.
She later had a long-term relationship with Jameel Penn Sr., with whom she had three children.
When Williams was 24, Jameel Penn Sr. abandoned her and her children, but he continued to assist her with the children and funds.
Williams' close friend Neesa Smith received a call from Williams on the evening of October 13th, in which Williams appeared to be in distress. When Smith inquired as to what was wrong, Williams merely responded that she could no longer do it.
She went on to tell Smith that her two youngest children, Ja'Karter, who was one year old, and Ke-Yaunte, who was two years old, were both dead.
Williams was pushed by Smith to contact the cops. Instead of alerting the cops, Williams called the children's father, Jameel Penn, in the next video.
Williams rotated her camera around the apartment during the call, and Penn noticed his sons on the floor. He then immediately dialed 911.
Williams also contacted the cops around 11:30 p.m. Williams said in the 911 call that she left Lamora Children with her cousin (later changed it to sister) and returned home to find her children dead.
She said that one child was caught beneath a "pulled over" oven, that both children were burned, and that "brains were on the floor."
Williams expressed concern about going to jail during the same 911 call, and begged the dispatcher to reassure her about the potential of going to jail.
Prosecutors suspect Williams intentionally burned her two youngest children to hide how she killed them. Williams has pled not guilty to the accusations leveled against him.
Williams' sister voiced alarm in the aftermath, stating that Williams should be placed on suicide watch in the jail. Williams' mother holds her daughter responsible for her conduct while still acknowledging that she had issues.
She has indicated that she may need to seek help after losing her "two youngest grandkids due to her daughter's conduct" and that it has been quite tough for her.
On October 13 2017, this horrific incident took place. Mother killed her two kids, which she had with Jameel Penn, the kids' father. Emergency services told us that they found Ke'Yaunte Penn and Ja'Karter Williams with their heads inside an oven. It was unreal to hear this news.
Pathologists couldn't tell whether the kids had been killed before or they were killed being placed in the oven. However, the autopsy report cleared the reason for the kid's death. It was shocking how a mother could do such a thing with her kids.
According to the neighbours, Lamora's apartment smelled like death. It indicates that the kid's body may have been there for a few days.
Before calling 911, Lamora called her close friend Neesa Smith. Lamora explained to Smith what she had done with her sons; now, her two youngest children were dead. Her friend Neesa advised her to call the police and wanted her to confess.
Lamora continuously told the 911 dispatcher that she didn't know who killed her kids and didn't want to go to Jail. She also mentioned that when she came back home from work, her kids were dead.
She was blaming her cousin because she left her kids with her cousin. Now her cousin is not here, and only my oldest son is alive.
First, she blamed her cousin for the murder, but after that, she started saying that her sister was babysitting her kids. Her sister is a murderer. All these statements she was giving were confusing, and last, it was found that she was the only culprit for her kid's death. Finally, when she gave her location to the 911 dispatcher, she said I saw my kids dead in the oven.
What exactly did Lamora Williams do?
On Wednesday, an Atlanta lady accused of murder after two of her children were discovered dead in an oven appeared in court. Lamora Williams, 24, is accused of putting her two sons, ages one and two, in an oven in October of 2017.
SOURCE: www.ghnewslive.com