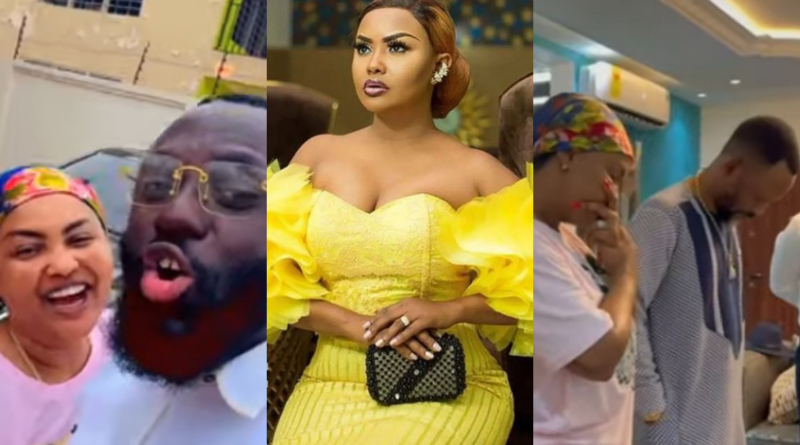 Nana Ama Mcbrown receives prayers from the United Showbiz crew.
The screen diva and actress, Empress Nana Ama Mcbrown, has received a welcome visit from the managing director of Despite Media Group, Fadda Dickson, and the complete United Showbiz production team.
This follows the numerous rumors that Nana Ama Mcbrown had been fired from her position as host of the United Showbiz segment that airs on United Television, which have been making the rounds on social media and around the nation.
READ ALSO: 'Someone Has Taken Nana Ama McBrown Photos To A Shrine Hence Her Long Break From Showbiz' – Blogger Drops Deep Secrets
These rumors were affirmed after several posts made by the show on social media omitting Nana Ama Mcbrown's image on their flyers. The majority presumed that the actress has had her contract with the media house terminated for reasons unknown to the public.
Empress Nana Ama herself has come out to debunk such publications and rumors, stating that she has not been sacked by the media house nor has she quit her job as the host of the United Showbiz segment.
Well, just when her fans gave up on seeing her on screens again, reports circulating social media suggest that Nana Ama Mcbrown will be returning back to our screens as the host of the United Showbiz segment.
This was after the entire crew including Fadda Dickson, Roger Quartey, Eugene Osafo Nkansah and other crew members paid a visit to Nana Ama Mcbrown in her abode to pray for her and also to welcome her back on screens.
Although she has not come out officially to reveal when she plans on returning to the show nor has the media house announced the time, we believe that Empress Nana Ama Mcbrown will be on your screens anytime soon to captain her show again.
Watch the video below:
SOURCE: www.ghnewslive.com