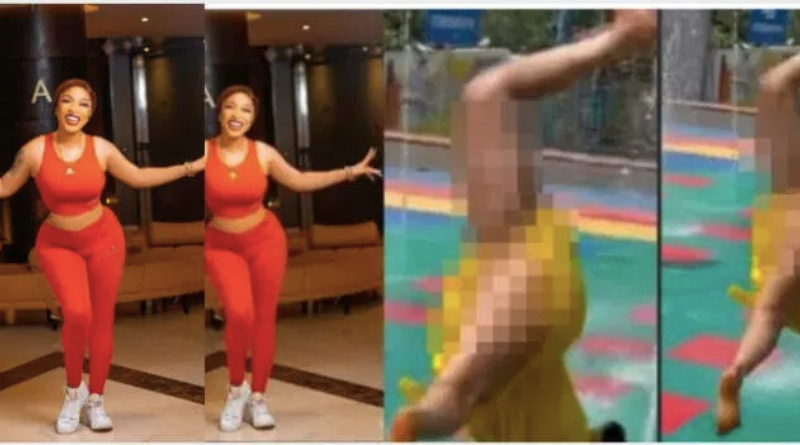 Tonto Dikeh, a Nollywood actress, has sparked outrage on social media with a bizarre and revealing prank she performed for the public.
A mother of one decided to do a bizarre somersault while having fun with her son and other children at a leisure facility, which caused quite a stir in the comment section of the video she posted.
Tonto Dikeh performed an act in which he displayed a portion of his body that appeared to be inappropriate for public display.
In other news; My Husband Is The Best I Could Ever Ask For,
Tonto Dikeh is a top actress in Nigeria, she is also a philanthropist, and politician, Tonto Dikeh has recently shower some praises on her amazing husband, Primce who happen to be her new love.
The actreas has been trending on social media and most people are asking why, the news from her camp is simply about hee husband and what she wrote about him on his birthday, she blessed the husband with her shower of love on social media and also got him a brand new car to celebrate his birthday.
Tonto Dikeh came all out with joy in her heart to wish her new Husband who is also a Nigerian politician a happy birthday with a very big cake. Tonto Dikeh amazingly referred to her husband as the "best husband, lover, and daddy". This Tonto Dikeh's new lover took the position or replaced her old husband and this current one is doing what a man is expected to do.
On tthe page she wrote "Happy birthday to the man that ROCKS MY WORLD. A very little token to say WE LOVE YOU, YOU ARE THE BEST HUSBAND, BEST LOVER, BEST DADDY I CLD EVER ASK FOR…
Source: www.ghnewslive.com