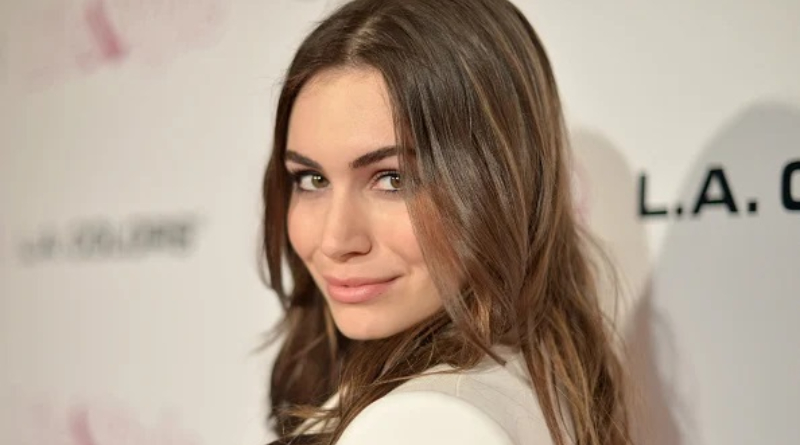 What Is Sophie Simmons Net Worth?
Sophie Simmons net worth is $10 million. She is one of the most popular American singers, actresses, reality TV stars, fashion designers, and models.
The rocker Gene Simmons of KISS fame and actress/model Shannon Tweed are the real parents to Sophie Simmons. After starting to appear with her family on the A&E reality series, Sophie first gained notoriety.
"Gene Simmons Family Jewels" (2006–2012), which was one of the network's most popular shows. Sophie has released singles such as "Black Mirror," "Creep," and "Selfish," and her 2021 single "Love Turns Lonely" reached #55 on the "Billboard" Canadian Hot 100 chart, #23 on the Canada AC chart, #9 on the Canada CHR/Top 40 chart, and #10 on the U.S. "Billboard" Dance Club Songs chart.
As an actress, Simmons has appeared in the films "Sex, Marriage and Infidelity" (2015), "Country Crush" (2016), "Urban Myths" (2017), "Anabolic Life" (2017), and "The Untold Story" (2019). She also starred in, executive produced, and composed and performed the theme music for the 2014 reality series "Shannon & Sophie."
Biography of Sophie Simmons – Early Life
Sophie Simmons was born Sophie Alexandra Tweed-Simmons on July 7, 1992, in Los Angeles, California. Her mother, Shannon Tweed, is a Canadian model and actress known for playing Diana Hunter on "Falcon Crest" (1982–1983) and Savannah Wilder on "Days of Our Lives" (1985–1986).
Sophie's father is Gene Simmons, an Israeli-American musician who is famous for being the bass player for KISS. Sophie has a brother named Nick Simmons. From 2006 to 2012, the family starred on the reality series "Gene Simmons Family Jewels," which aired 160 episodes over seven seasons.
Sophie holds dual citizenship between the U.S. and Canada, and she majored in religious studies and computer engineering at Pitzer College in Claremont, California. As a college student, Simmons was a member of the Pomona/Pitzer Sagehens volleyball team.
Career
Sophie made her film debut in 1996's "No Contest II," which starred her mother. In 2012, Simmons auditioned for the Fox music competition "The X Factor" and made it to the Bootcamp stage of the competition.
That year she also lent her name to Sophie's Place Child and Youth Advocacy Centre, which she advocated for with the help of the Royal Canadian Mounted Police and Dianne Watts, the mayor of Surrey, British Columbia.
Sophie's Place was created to "bring together counselors, doctors and police under one roof in Surrey to give abused children under 12 a safe place to tell their stories." Simmons said of Sophie's Place, "It's really important for me to have kids have a place where adults can take them seriously and where they can express what's happened to them in a safe environment."
In 2016, Sophie's father donated $100,000 to the Gala of Hope fundraiser, which benefited Sophie's Place and The Centre for Child Development.
In 2015, Sophie released her first single, a cover of the 1998 Sixpence None the Richer song "Kiss Me," and she followed it with "Black Mirror," "Burn Me Down," "Paper Cut," "Creep," "Sabotage," "If I Could," and "Courage for Xmas" in 2018. "Black Mirror" reached #20 on the "Billboard" Dance Club Songs chart.
Simmons also released the 2019 singles "Bigger Than Yours" and "Selfish" and 2021 single "Love Turns Lonely," and she collaborated with Yellow Claw, a Dutch DJ duo, on the tracks "Home" and "Cry Wolf."
Sophie has collaborated with several other artists, including  The Galaxy ("Dangerous"), Cesqeaux ("Private Time"), Different Heaven ("Live at Night"), Rytmeklubben ("Orbit"), KidWaste ("Beautiful Life"), Tom Martin ("Harmless Heart"), Sam Feldt ("Magnets"), Felix Cartal ("Mine"), Borgeous ("Rescue Me"), and Frank Walker and Nevada ("Shadows").
In 2016, she performed the song "Jaded Woman" on the "Country Crush" soundtrack, and it was released as a promotional single. Simmons has also appeared on TV shows such as "Extra," "Good Morning America," "Today," "Entertainment Tonight," "Pop Trigger," "Home & Family," "Celebs React," and "Red Carpet Report."
Personal Life
In July 2022, Sophie became engaged to James Henderson the day before her 30th birthday. The proposal took place in Zurich, Switzerland, where KISS was performing on their "End of the Road" tour. In May 2011, Simmons was involved in a car accident during a traffic jam when the vehicle behind her struck her Dodge Charger and pushed it into the car in front of her.
Though Simmons was wearing her seatbelt, her head hit the steering wheel because the airbag did not inflate. The car was totaled, but luckily Sophie was fine.
Real Estate
In August 2020, Sophie and her brother, Nick, paid $2.3 million for a 2,700 square foot home in the Hollywood Hills. The home includes three bedrooms, 2.5 bathrooms, floor-to-ceiling glass walls, an eat-in kitchen, and a temperature-controlled wine closet.