Ghanaians massively blast

Sarkodie

after A-Plus made a post on social media concerning the current fuel prices and Drivers strike
Sarkodie and Kwame A-Plus are trending and here is why. The recent circulating news that has undoubtedly sparked massive stirs, debates, and arguments across all social media platforms is that of another unexpected post by the popular politician and highlife musician, Kwame A-Plus over the award-winning rapper, Sarkodie's comment over the incumbent government's administration.
In a recent post, Sarkodie highlighted that the current livelihood of Ghanaians has undoubtedly been a bit tough under the Akufo Addo government but no matter what, Ghanaians will prevail irrespective of the circumstances.
"The people are going through it!!! We always do!!! All we ask for is the right environment to hustle/ be productive", Sarkodie emphatically stated.

Upon Sarkodie's post received lots of attention from Ghanaians and prominent individuals across social media, the popularly known politician, highlife musician, and social media influencer unexpectedly took the privilege to express his immense disappointment in the popular rapper aside sharing his thoughts and opinions over the hardship Ghanaian citizens are encountering in the country.
According to Kwame A-Plus, the popular rapper, Sarkodie was being hypocritical with his post and that, he would have reacted differently if the flag bearer of the largest opposition party, NDC, John Mahama was the current President of Ghana.
Read also: [Watch] Ghanaian trainee nurses displaying twєrking skills causes stir online
"The hypocrisy...During John Mahama's time as President, the hardship was caused by his incompetence abi? Now there is serious hardship under Akuffo Addo, instead of telling him the truth you added 'we always do to make you look good before him. When you spoke about hardship under John Mahama didn't 'we always do'? Or we were living in San Diego before he became President?", Kwame A-Plus emphatically queried.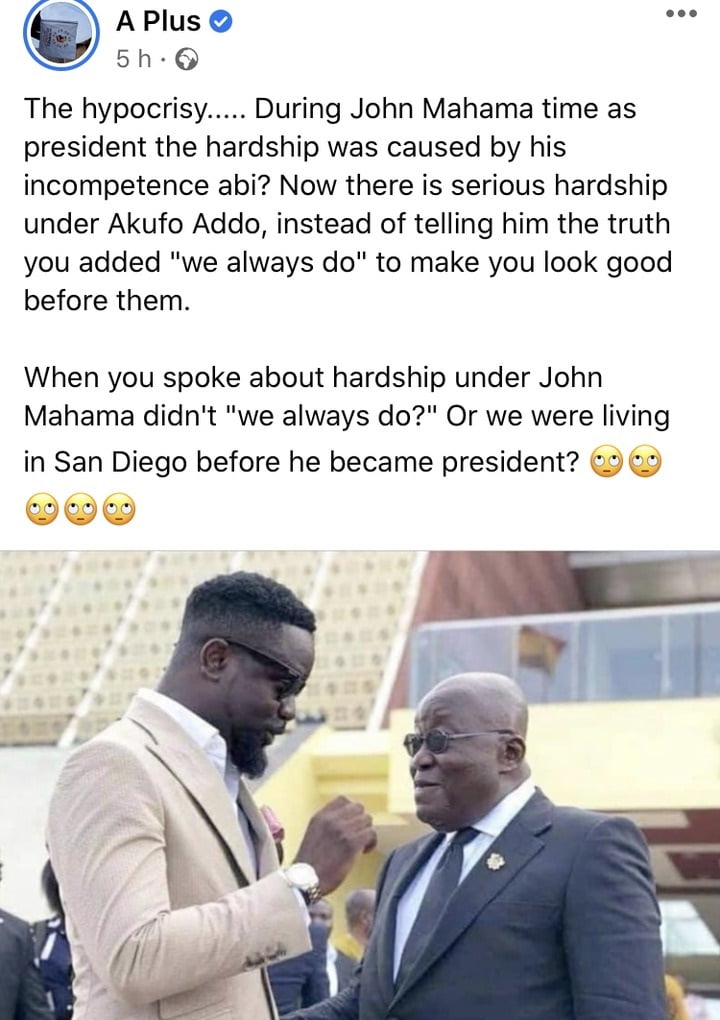 Upon Kwame A-Plus' response to Sarkodie's unexpected post popped up, most individuals took the privilege to express their immense disappointment in the rapper, Sarkodie for not defending Ghanaians aside from sharing their thoughts and opinions on the alarming issue.
Below is a look at some of the comments that came through as individuals shared their respective opinions and concerns aside from blasting Sarkodie over his recent tweet.