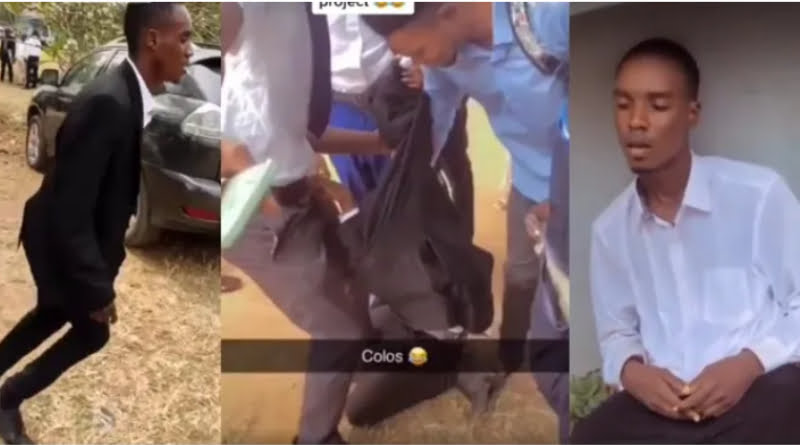 A tertiary student did the unimaginable prior to his project defense.
African students are becoming addicted to drugs gradually as we normally see videos of that online. Now, Africa has a long way to go in terms of guiding the youth to become responsible leaders in order to make this continent great again. Today's news about this young Tertiary student is sad and unbelievable.
This student we are talking about is yet to be identified with a name or the particular school he is enrolled in. The young man is said to be in his final year and according to our source who filmed him, the guy took the hard drugs, Colorado to be specific before going to defend his project.
A video shared online shows the guy dressed in a suit struggling to walk properly. He was misbehaving on the premises of the school and his colleagues had to go and help him sit and relax as his misbehavior was getting out of hand.
Read also: This Is What These Two SHS Students Were Caught Doing In School's Dormitory -(VIDEO)
The video shared was captioned as; "When you take colos before defending your project"
Watch the video below;
In other news, Ghnewslive spotted a video of a nice lady angry at her boyfriend who had seemingly impregnated her and now trying his best to abort the baby.
The lady in the video was furious at the guy as she insisted that she will never take the abortion pills her man brought. She then rain some questions on the guy, she asked him to use a spoon to scoop the sperms from her if indeed she doesn't want to carry the pregnancy.
This incensed the guy, who pressed further that he will make the girl abort the pregnancy, leading to a brief scuffle as he captured the moment on camera. Obviously, the lady wasn't happy he ejaculated inside her in the first place and asked him severally whether he came inside her, which he initially denied until he saw him with the medicine.
Watch the video below;