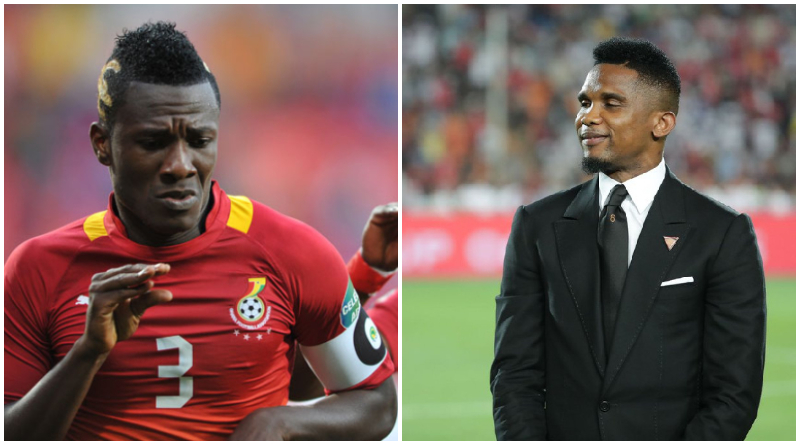 The Cameroonian football legend, named Samuel Eto, has finally spoken about the decision of the former Black Stars Captain ( Asamoah Gyan) to join the Black Stars squad for the 2022 World Cup to be held in Qatar.
Asamoah Gyan has become the current person everyone is talking about in connection to the 2022 World. Ever since the news concerning Asamoah Gyan's return to Black Stars broke out to the general public, many people have expressed their opinions in varied ways for and against the motive.
Others believe that Asamoah Gyan is old and there is a need for him to give way for the younger generation to participate in the world Cup Competition.
Another school of thought believes that, football is now about experience and how presentable you are. It is therefore necessary for Asamoah Gyan to join the squad and impact his expertise to support the team both on the field and even at camp. The opinions keep flowing in and Samuel Eto has made his assertion about Asamoah joining the Black Stars.
According to the Cameroonian football legend, it is a good news for Ghanaians and also to him ( Samuel Eto) to see that his colleague Asamoah Gyan will go back and support his motherland team in such a crucial tournament which will be held in Qatar. " I am very happy to hear that from Asamoah Gyan. Qatar World Cup will be tough. I am.very glad that Asamoah Gyan has the greatest desire to return to join the Black Stars of Ghana". Samuel Eto'o Qatar Legacy Ambassador speaks.
Samuel Eto'o made his message or Words known during one on one interview with one of the media personalities in Ghana by name Delay. The interview or discussion went on successfully and we appreciate the good words of Samuel Eto'o.
Source: www.ghnewslive.com