We hear so many stories about sakawa almost everyday but today's story is one of the saddest among them.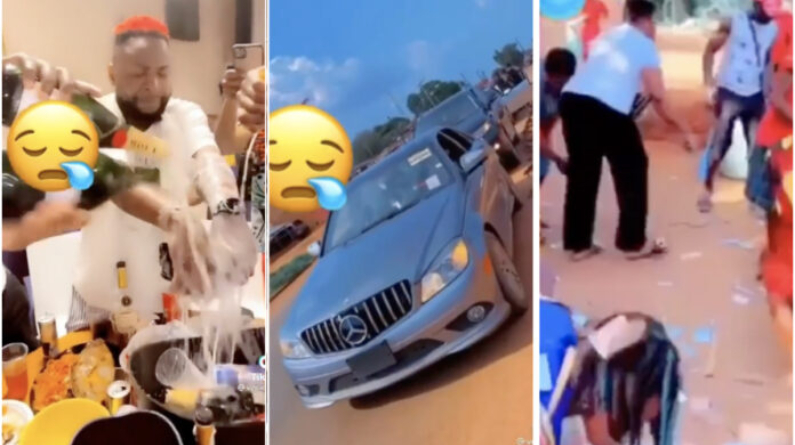 There is a video trending online about an alleged Sakawa aka Yahoo Boy who has been given 12 years to spend 20 billion Naira (¢314,525,672) after which he will die has surfaced out to cry.
This claim was made by someone as per the information in the viral video making that is making rounds on social media.
READ ALSO: Check Out The Trending 'Mansion Casket' Made By A Ghanaian
In this viral video we are talking about, the young man is seen flashing money everywhere he goes.
He noted in the video:
" I signed a contract with the devil and I have 12 years to spend 20 billion.
"Share me your account details lemme bless you some."
"I cannot use the money for investment or anything of that sort"
In other news,
There is a new video trending on social media that has told the story of a pretty young lady who is said to allegedly outsmart her 'sakawa' boyfriend to marry his Whiteman client.
In the video Ghnewslive.com spotted on an Instagram page, the pretty young lady was having fun with her Whiteman lover as the video proved that they went on many adventures.
From the looks of things, the Whiteman has already married the pretty lady and they are already chilling and having fun, the lady looked so much happy as the Whiteman who is said to be a client of the pretty girl's ex-boyfriend took her to places.
The sakawa boy's goal was to lure the Whiteman through this pretty lady into sending her money and later cut ties with him after he had drained the foreigner of all his wealth.
God is so good that the sakawa boy's dreams couldn't come to reality as his girlfriend who was assigned to chat with the Whiteman (client) till he sends them money ended up falling in love with him.
SOURCE: www.ghnewslive.com