Ralph Macchio reveals karate legend Pat Morita last words before his death
The Karate Kid is an essential part of any discussion of movies from the 1980s. Kung Fu Kid The Karate Kid, a 2010 remake starring Jackie Chan and Jaden Smith, is probably the adaptation that younger people are most familiar with because it comes from a bygone period.
The Karate Kid, however, made such an impression that even people who have never seen movie are at least vaguely familiar with it.
The success of The Karate Kid spawned a franchise, which included a 2010 remake and later Netflix show Cobra Kai.
Also Read: Sony's New Karate Kid Movie Unrelated to Cobra Kai Should Be Blamed on Top Gun: Maverick's Soaring Success
Relationship between Ralph Macchio and Pat Morita
Daniel LaRusso, a teenager, encounters bullies after his mother relocates the family to Southern California. A karate instructor named Mr. Miyagi meets Daniel and imparts all of his knowledge to him about the martial art and life in general.
In the next coming-of-age tale, Daniel participates in karate tournaments against his bullies and discovers the value of kindness.
In a recent interview on Kara Swisher's Sway PodcastRalph Macchio opened up about his relationship with the late actor, who died in 2005.
He began by discussing the importance of Mr. Miyagi in Daniel LaRusso's life, noting that he requested that the mentor script be included in Cobra Kai before it was produced.
Swisher then claimed that he was "personally close" in Morita. While the actors had a strong bond, Macchio clarified that they weren't "close" to one another.
"I was personally close to him in the sense that, over time and years, the importance and relevance of our partnership on screens around the world has become so clear to me," explained the actor.

"It was really the definition of magic when we did those scenes because there was an exchange," the 59-year-old said. "It was effortless, like the perfect tango." That's the word. It was effortless. I had no idea how rich it was, I just knew it was simple, and therein lies the truth for me. Something otherworldly, or whatever you want to call it.
He went on to say how much he loved being Morita's stage partner.
Also Read: 'There Is an Endgame': Cobra Kai Star William Zabka Reveals Exciting Future for Series, Says He's Open for Another Karate Kid Trilogy in Future
Pat Morita's last words to Ralph Macchio
Pat Morita died in 2005, aged 73. The cause of his death has been the subject of conflicting reports. His daughter, Aly Morita, said he died Thursday of heart failure in a Las Vegas hospital; while longtime manager Arnold Soloway said the actor died of kidney failure in a hospital while awaiting a transplant.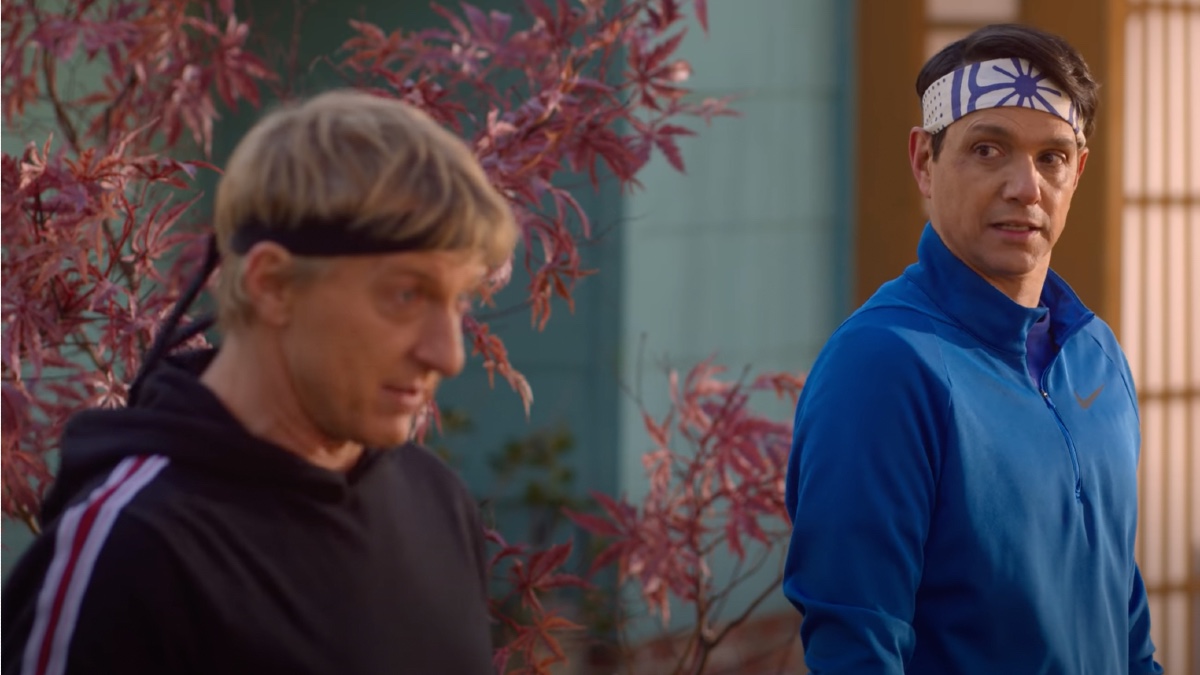 In his last words to Ralph Macchio, Pat Morita said "Hey Ralphie, it's me, Unca Popzi!" I like your ass, baby"
"It was an honor and a privilege to work with him and create some movie magic together," Macchio said in a statement. "My life is better for knowing him. I will miss his true friendship.
"Forever my Sensei," Macchio added, referring to Morita's character in The Karate Kid.
Also Read: 'It Better Be A Cobra Kai Movie': Sony Confirms New Karate Kid Movie Will Release In 2024, Reveals It's Return Of Original Franchise
With Cobra Kaiworld-renowned, it's easy to attribute the show's success to its role as an extension of The Karate Kid franchise. Cobra Kai did not rely solely on memories of The Karate Kid movies. In fact, among contemporary movies and TV shows that incorporate nostalgia into their plots, Cobra Kai is one of the best for doing it the right way.
cobra kai season 5, released on September 9, 2022, is currently streaming on Netflix.
Source: USAToday