Puissant Ghanaian prophet, Senior Servant Baffour is creating a ruckus on Instagram.
The godly man is causing public fear and unrest in the wake of implying that an aura of death is surounding famous Nigerian artiste Davido.
Taking to social media, Senior Servant Baffour expressed that he hopes Davido's spiritualists save him from impending misfortunes.
He proceeded to say Davido can't leave that early.
The godly man made this worrisome post whiles wishing the musician a happy birthday.
He wrote the following words, 'Happy Birthday African Gem… For what lies ahead, I only hope Spiritualists help. You can't leave that early 🤐🙏'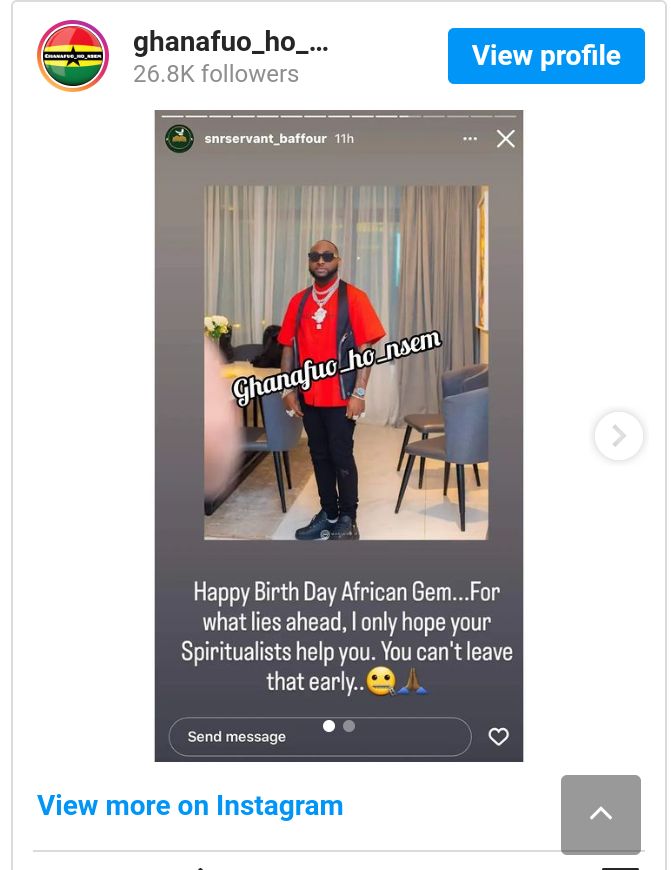 His negative prediction comes after Davido celebrated his birthday on Monday, November 21, 2022.
Understandably, Davido couldn't celebrate his birthday as arranged before, in light of his son's death. In any case, his friends, family, and fans celebrated him profusely on social media yesterday.
They appealed to God on his behalf, and wished him to enjoy all that life has to offer in the years to come.
However, this dreadful prophecy is causing enormous fear among ardent fans of Davido.