On Monday, October 24, 2022, a V8 driver was reportedly shot and his vehicle, brutally set ablaze in Dzorwulu.
Soon after the incident occured, a Ghanaian-based blogger known as Sika Official, shared a video on social media, in which the anonymous driver of a black vehicle was lying unconscious at the scene of the crime.
The unknown driver of the V8 car, after attacked by a band of rageful assailants, was seen lying tragically on the street while his vehicle was going up in flames.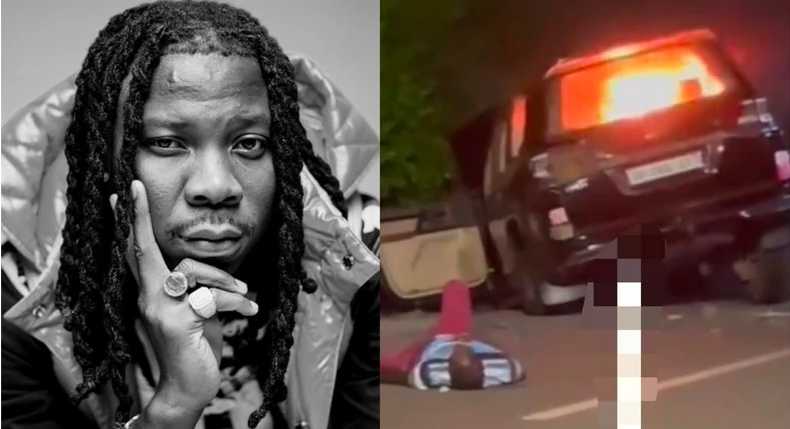 Media sources have hypothesized that a land disputation issue might have started the attack, albeit this is simply a guess.
An observer of the crime, rather than calling the authorities or alarming the attention of surrounding individuals, opted to film the 33 second moment, as the injured person lied horrendously on the street.
Stonebwoy, upon seeing the depressing video, said he was dismayed that onlookers appeared to be less worried about aiding the mortally endangered individual, than they did recording the footage.
"I saw a video of a man laying hurt on the floor in Dzorwulu. A residential area with his V8 bumped/crashed into all these while there was this man filming him shouting, he is not dead ooo. With other passerby also filming until the car caught fire. This man started shouting…we need fire Ghana fire service oo. Please fire service come o. and so on and so forth. Like I am so disappointed in some of us. Our smart phones have sucked out common sense," he angrily composed on social media.
Proceeding on with his displeased sentiments, the artiste said, "He could have called an ambulance or fire service. Anyways realizing how long it takes for both to show up. How about quickly arranging for a taxi to carry this man to the hospital to save his life. I see many of us interested in filming the incidences that happen in order to post instead of actually saving the situation then dealing with the extras later. We can surely do better. Pls let's try."
View a screen capture of his post beneath.