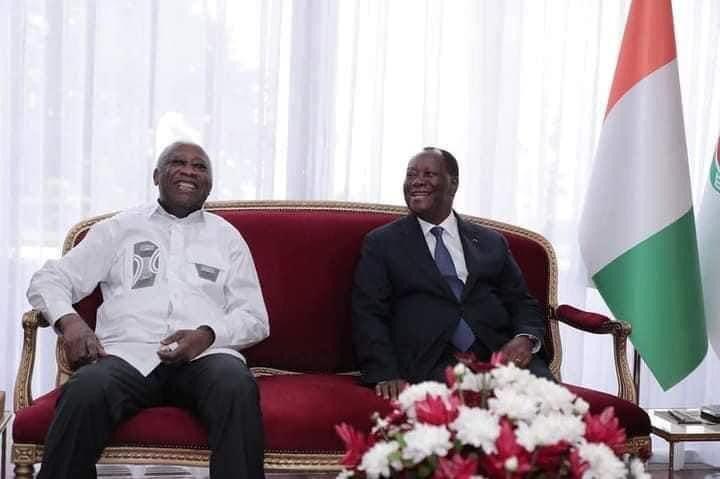 The pictures above show us the joyous moments between two leaders that showed the entire world that they are the worse enemies.
In 2010 their perceived followers killed each other for the personal interest of these leaders.
Ivory Coast was plunged into war and many innocent citizens were caught up in the crossfire because of Alassane Qattara and his predecessor Laurent Gbagbo.
Now after 10 years downline they have met each other and are smiling over the death of many innocent souls.
What lessons are we drawing from this episode?
In the just-ended elections in Ghana, political party fanatics took to the streets in protest while the said leader and his family watch television from the comfort of their homes while their supporters were being bathed with hot water.
I asked myself, does it worth it?
The episode we are witnessing now should advise all of us of the fact that our political leaders are not enemies to each other.
They are enemies to the cameras during talk shows only. They deceive us to think that they are enemies but in fact, they are not enemies.
Let stay loyal to our leaders, Godfathers, and our political parties, but our lives should be valuable to us and we must protect it at all cost because the same leaders need us in our numbers also during elections.
Again let us associate with leaders that are calm and peaceful, let discard those leaders who will employ us to do violence. Such leaders are not worth following.
This goes to only the youth in politics, let us not allow ourselves to be used to cause violence in any form. The fact is those leaders will never ask their children to join.
Let us ask ourselves if the children and families members of these two wicked leaders died during the fracas.
If the answer is factual NO!
THEN LET US LOOK SHARP
✍🏿✍🏿✍🏿✍🏿✍🏿✍🏿✍🏿✍🏿
SEB) ZENITH DE UNIFIER
NPP YOUTH ACTIVIST