Ghanaian rapper, E.L., known for his massive spark of fame, as well as record breaking heights in the music industry, has returned after his temporal leave of absence, with a firm assurance, as he informed his fans of yet a glorious comeback into the music scene.
The energetic artiste, who's credited for winning five awards at the Vodafone Ghana Music Awards in 2016, has guaranteed his enormous fans that he will reemerge stronger into the music business, come 2023.
The thin lyricist and vocalist, who is likewise a beatmaker, has been on a deliberate leave for some time, thus in this manner, keeping his fans devoid of his artistic creativity.
Anyway, per a post on Twitter, EL enlightened his fans that he will before long, quench their thirst with great music, as he builds up speed to relaunch himself right on time, just a few weeks away from next year. The enthused artiste posted;
"TO THOSE CONCERNED , TO THOSE DM'ING AND ENQUIRING, MUSIC WILL BECOME IMPORTANT TO ME AGAIN EARLY NEXT YEAR, ON SOME OTHER VIBES RN. WILL MAKE IT UP TO YOU. 👽♥️"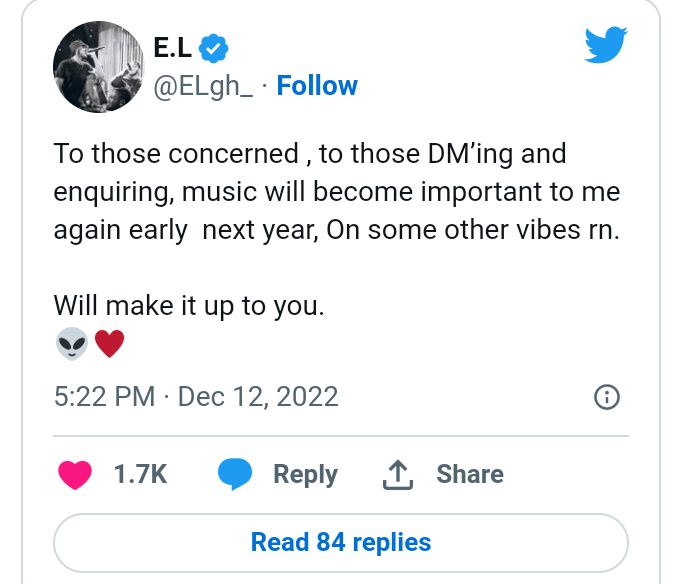 E.L's top tracks consist of, "Obuu Mo", "Kaalu", "One Ghana", "Aunt Martha", "Shelele", "Mi Naa Bo Po", "Koko" and "KaaBuAme", "See me Some Time", "Abaa" and "Pay Like a Boss". His first album is titled "Something Else", which was released in 2012.
The intelligently diverse rapper, also released a mixtape, called The BAR (Best African Rapper), for which he went on to release its fourth installment, called BAR IV.
He won Artiste of the Year and Hip-life/Hip-hop Artiste of the Year at the 2015/2016 Vodafone Ghana Music Awards respectively.