Many Ghanaians have converged at the state house to extend their last honorary respect to highlife artist and icon, Nana Kwame Ampadu, who died on September 28, 2021.
President Nana Addo Dankwa Akufo-Addo was available at the service with a section of his administerial appointees, including the Speaker of Parliament, Alban Bagbin, and the Minister of Interior, Ambrose Dery.
The president said the sad shedding of tears and distress by the general public following the appalling news of the late legend is a characteristic of the unmistakable quality of Nana Ampadu and his commitment to the improvement of the music industry in Ghana.
He said the late musician additionally assumed a crucial role in the outcome of the 2016 election mandate which saw him take his position in the presidential office.
"The outpouring of grief by many Ghanaians, following the news of his death, is an appreciation of the impact his music had on successive generations of Ghanaians. Nana Ampadu believed in my vision for the transformation of Ghana, and assisted me tremendously on the campaign trail in the run-up to my victory in the elections of 2016, for which I remain eternally grateful," president Nana Akufo-Addo duly expressed.
The entombment and last burial service ceremony will be effected in his home town Obo Kwahu in the Eastern Region on October 8, 2022.
Nana Ampadu was a one time Leader of MUSIGA and was additionally the head of the African Brothers Band, brought into conception in 1963.
The amazing highlife artist has been merited with a recognizable number of well known highlife classics. He is acknowledged to have produced more than 800 tracks.
He assumed stardom and acclaim in 1967 when he delivered his tune Ebi Te Yie, a melody that was viewed as instrumental of the then ruling party National Liberation Council (NLC), which saw the downfall of Ghana's most memorable president, Kwame Nkrumah.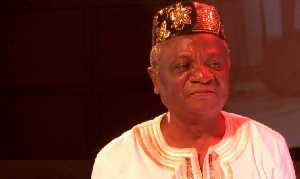 The melody however lost appeal from wireless dissemination and airplay, but had a significant part to play again after the conclusion of military rulership.
In 1973, he was honored after winning a contest in Ghana and was delegated the "Ndwontofoohene," translated as the King of Singers.