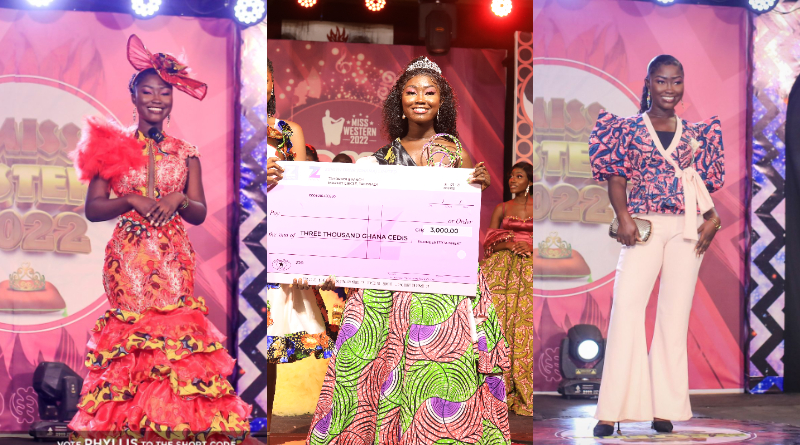 Phyllis has thanked her supporters, groomers, and everyone for believing in her throughout her journey in the competition.
Phyllis was one of the delegates who made things hard for others with her amazing performances. She has been crowned the 2nd runner-up after 14 weeks of grooming and stage performances.
Her full name is Phyllis Amago Dunenyo, she is 21 years and attended IBS Educational Complex Basic school, she progressed to Datus International Snr High School after her JHS education.
She is currently working with Best Tape Entertainment, an event house, and an Artists Management Company. Phyllis represented Asankrangwa in Miss Western Ghana 2022. Speaking with Ghnewslive.com, she said "I am very grateful for the love, support, and encouragement the people of Asankrangwa gave me, particularly the Queen's mother, my own mother, and my management team. Asankrangwa Media really helped me and put my brand on the spot.
I chose to represent Asankrangwa in the Miss Western in order to sell the town, become a role model for the younger ones and use my influence to advocate for development in the town. On a personal level, I joined Miss Western because I saw the opportunity as a platform for self-development.
The Pageantry has helped me to discover my true potential and given me enough leadership skills to take on any initiative.
I want to thank my supporters for everything. I want to tell the organizers that I'm still going to embark on my project even though I couldn't win and make everyone proud. Thank you
Below are some of her pictures during the competition,
ALSO READ: Anita, Miss Western Ghana 2022 3rd Runner Up, Has Some Words For You.
Source: www.ghnewslive.com
Follow Ghnewslive on Facebook for more information