Machine Gun Kelly touched fans in memory of late Linkin Park frontman Chester Bennington.
On Saturday night in London at Wembley's OVO Arena, the Cleveland rapper took a moment during a standout performance to discuss losing his friend, Chester Bennington.
The 32-year-old, who had been hopping from track to track and wowing those who knew every word, dialed back his performance when he remembered the last time he had seen Chester.
Chester passed away at the age of 41 in July 2017, the band's eleventh year together during which they achieved global fame and numerous hit songs.
Chester was an artist that MGK admired, but due to his own success, he had come to regard the front man as a close friend.
He said: "We had a tour that we were about to start and three days before we started that tour, Chester passed away.
"The last time I saw him was here in Europe so I encourage you, because life is short, to go and live this life, I know it's hard, but nights like tonight make life worth it.
"I hope when you leave here, you find more nights like this and to live this short life. I love you very much."
The crowd held up their phone torches while he played his song Glasshouse, creating a sea of lights.
The audience at MGK was always impressed by the musician's passion and intensity.
The show included pyrotechnics, which gave people who get scared easily a chance to leap, including 10 foot high flames, enormous inflatables, and coordinated lighting.
However, it was the little details that made the night special.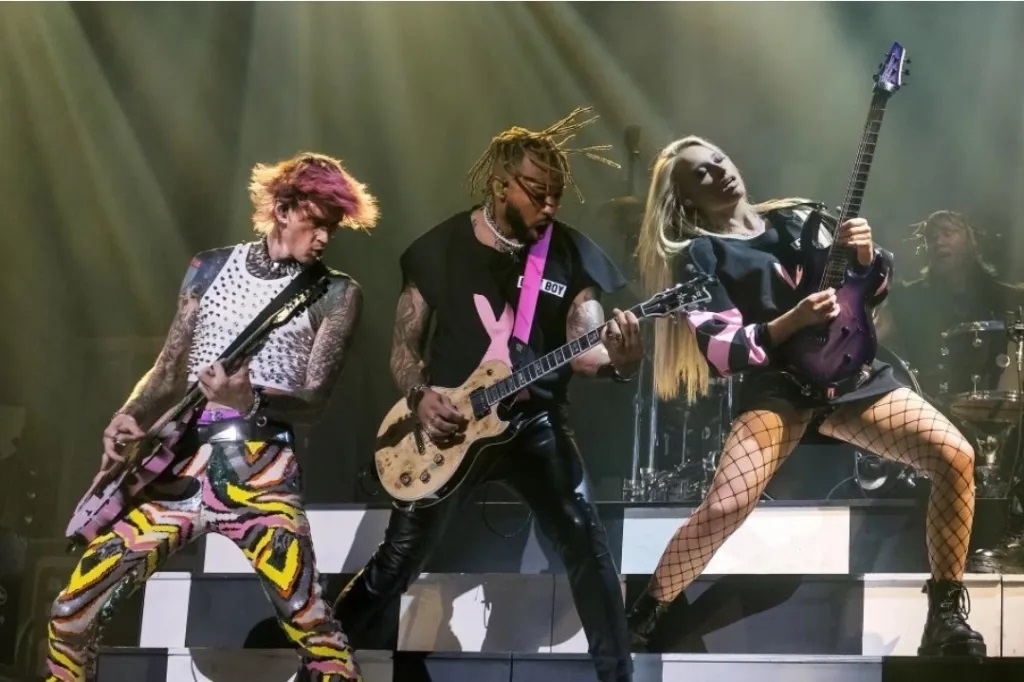 After flinging his microphone into the air, MGK unleashed vocals that broke all previous records and never missed a beat.
During his 28-song set, British punk rocker Yung Blood and grime MC Skepta joined him on stage and helped to energize the audience.
The primary performers on stage weren't the only ones giving the audience something to remember; his live band also displayed astounding talent.
Sophie Lloyd, a guitarist from London, stood out because of her flawless riffs, which left the audience in awe.
During the whole show, drummer Rook played two great solos that showed how good he was at timing and spinning his sticks.
In their respective moments of brilliance, Steve Basil, Justin Lyons, and Brandon "Slimxx" Allen all shone.
Five years ago, MGK performed at the 5,000-seat Brixton Academy in London. The capacity of last night's arena was increased to 12,500.
MGK told the crowd, "This is just the beginning" as a compliment to his clear tenacity and to show that he's not done yet.

He told loud cheers and support that Wembley Stadium is on his mind for the next time he comes back to London.

With the release of his mixtape "100 Words and Running" in 2010, MGK broke into the music industry and gave his fans a place to start.

The singer called out "beautiful" off the stage as his fiancée, Megan Fox, watched away from the prying eyes of fans. Megan was at the concert.

Just two days before, the American music legend strolled through Milan with his 13-year-old daughter Casie, wearing a fluffy pink headgear that made him difficult to miss.

The child had long strands that dropped to her waist from behind the same hat as her father, but it was black instead.
SOURCE: Ghnewslive.com