Popular drummer Sol Amarfio, one of the key members from the iconic music band Osibisa, has died, as per an update shared by sports reporter, Yaw Ofosu, via a post uploaded on Twitter on Wednesday, December 14, 2022.
Publicly confirming the tragic news, he twitted, "Sol Amarfio. Master drummer, songwriter, composer and a member of the legendary Osibisa band! Rest in peace."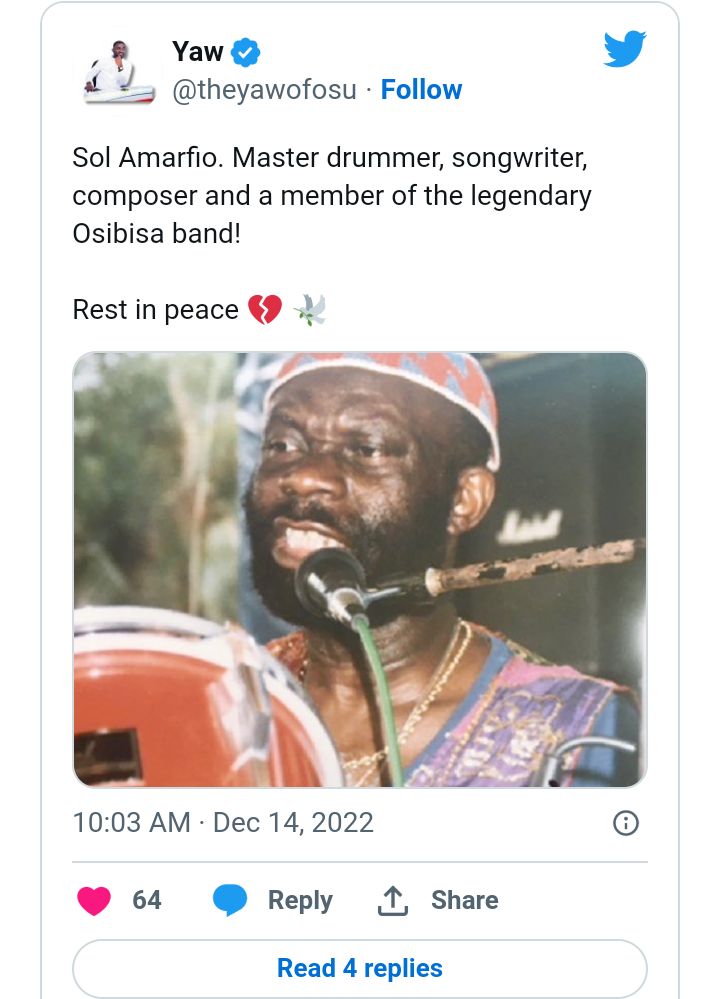 Amarfio, born in1938 in Asere, Accra, started out his path of profession by playing with sensational music bands such as the Rhythm Aces, Star Gazers, and Comets bands in Ghana, before making a trip to Britain by means of Liberia, Spain, and France in 1961.
Prior to Osibisa's rise to wide acclaim in 1969, he teamed up with other Ghanaian musicians located in London, including George Lee and Willie Cheetham, for selected performances all through Europe and North Africa.
The Ghanaian-British Afro-Rock band Osibisa, was initially formed in London during the late 1960's, by four artistes from the West African diaspora, and three from the Caribbean who resided in London.
Alongside such peers as Assagai, Chris McGregor's Brotherhood of Breath, Demon Fuzz, Black Velvet, and Noir, Osibisa were the most famous and long-standing bands among the African-heritage oriented music groups in London.
They shaped a significant space in the improvement of global music and Afro-Rock, as a commercially practical classification of sound and music.
The original band, known as the Beautiful Seven, made an appearance on the first three studio album projects released by the group.