Lady has boldly come out to narrate the story of how she sent all the money she earned in Saudi Arabia to her online lover.
The name of this lady is Loise Wanjiru Syombua, during the interview she narrated how she ended up losing all her money earned in Saudi Arabia after she sent all her money to her online lover after a failed marriage with her husband later returned back to the country with nothing.
Loise made it known that she went to Saudi Arabia with the intention of supporting her kids. But that was not the case. She ended up losing everything she had earned, including sending money to an online lover she met, thinking she was going to marry him and start a new life with him.
When her husband accused her of adultery and then tried to murder her with a machete, she decided to move to Saudi Arabia to get away from it all. She said she wasn't cheating on her husband and it was mere accusations and insecurity that filled his head.
According to Loise, she left her two children in the care of her sister after a bad marriage and moved to Saudi Arabia to work. Since she was raised in poverty, she, like many others, had great expectations for herself and her family. She went to Saudi Arabia for greener pastures and the betterment of herself and her family, which she left behind.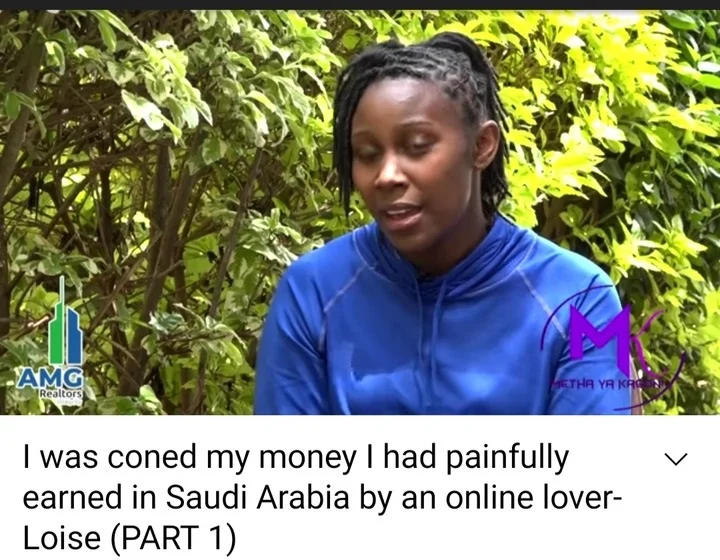 She had to wait a long time to get in touch with her family since she was not permitted to use a cell phone in Saudi Arabia. After being severely abused by her employer, she decided to quit her job and get another job as a house helper in Saudi Arabia.
As a result of being permitted to use a cellphone, she met her internet lover and fell in love. Without realizing it, she was setting herself up for disaster by being overjoyed at finding a new man to adore. She thought she had found an angel and was ready to marry him.
Because she was in love with her internet boyfriend, she didn't even remember to send money to her children when they begged for it. She sent all the money she made abroad to her online lover, who promised her marriage and made her abandon her children and family.
Loise returned back to Canada after spending almost 4 years in Saudi Arabia working as a house girl with nothing. Because she was defrauded of her whole hard-earned money, she was unable to meet with her online lover. He blocked her. She didn't know his real identity.
She regrets sending money to a stranger instead of starting her own business and helping her family. She warned women to exercise caution when it comes to the individuals they trust online in order to prevent another incidence like this from occurring. Can you trust someone you met online to extend of sending money to them?
SOURCE: www.ghnewslive.com