Ghanaian Highlife artiste Kwabena Kwabena, has reacted to Samini's analysis of the official Qatar 2022 Black Stars theme song.
Without concurring or opposing Samini, he accorded Samini with the respect and courtesy he deserved, by affirming that he is a pro in the music business and has earned the privilege to criticize music.
Kwabena Kwabena, who was on a media tour for his 'Fa Me Saa' studio album, added his opinion to the recent matter on 3FM Drive with Giovani Caleb.
As indicated by him, he hasn't put out any melody since he has not been contracted nor had the sensation to do as such. Yet, he concludes that Samini is qualified for expressing his viewpoint about any song.
"Yeah, that is his opinion. And he has every right to express his opinion. He's a legend. He's paid his dues as far as music is concerned. So if he criticizes, he has every right to criticise it. He has the locus and pedigree to criticise it," he said.
This follows after the Kentos Music Band released "Osey" as a song for the Black Stars. The Ghana Football Association (GFA) in conjunction with award-winning vocalist, King Promise, likewise revealed the official Black Stars song in headway of the World Cup on November, 15, 2022.
Samini in a tweet disclosed his dissastifaction with the new track for the Ghana Black Stars in spite of the fact that he didn't obviously state which track he was talking about.
In his tweet, he wrote, "The new black starts song though, do we have to learn it before the world cup ? whoever chose it probably wrote it too. Eiiiii track na 3y3 ya saaa no! Hmmm a few of us could have done a better job at that Chale anaa meeb)dam lol. but vim still for the boys. Go Ghana."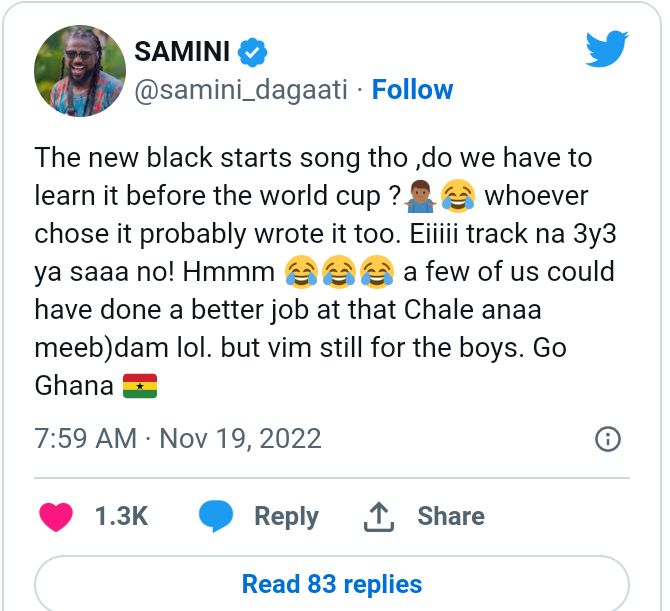 The vocalist then, at that point, went on to release his own Black Stars song of praise which he called; "Win Africa Win.
Kwabena Kwabena likewise released 'Fa Me Saa' album on 11/11/22. The album highlights 14 tracks, which as per the musician, is two-thirds of the initial songs comprised in the album.