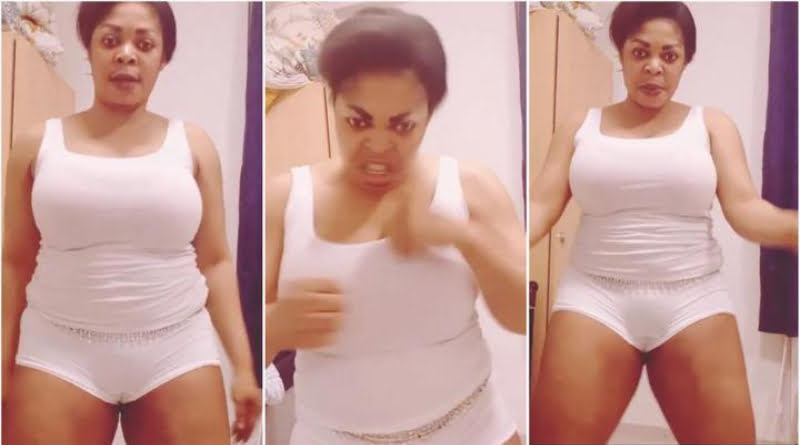 Joyce Dzidzor Mensah has now revealed married Pentecost elder responsible for her latest pregnancy.
Joyce Dzidzor Mensah is a Ghanaian Actress and former HIV/AIDS ambassador who is currently on cloud nine after test results show that her daughter has tested negative for HIV.
SEE ALSO: (Video) Pamela Watara Has Finally meet her 'meeter' as a lady dancing in a video goes viral
She made the headlines after posting a photo of a man believed to be an elder in the Church of Pentecost, and netizens went crazy about it some were saying she was dating the elder and some were also defending the Ghanaian actress.
In a Facebook post by Joyce Dzidzor Mensah, we saw a photo of a well-built man in a suit who appeared to be attending an event. After Joyce posted the, she made it known in her caption that she is suspecting herself of pregnancy and that a Pentecost elder might be the one responsible for the pregnancy.
READ ALSO: [VIDEO] Joyce Dzidzor Mensah Mistakenly Goes N𝓊𝒹𝑒 After Her Towel Dropped During Presentation
According to the Ghanaian actress, she met this Pentecost elder at the airport while on her way to an HIV/AIDS program he organized in Milton Keynes.
Joyce Dzidzor Mensah also added that she was not a monster like people considered her to be but rather had a sweet soul.
SEE ALSO: Men's Performance During Intimacy
She also revealed that the Pentecost elder was willing to support her and affirmed his love for her no matter what.
check out Joyce's latest video below,