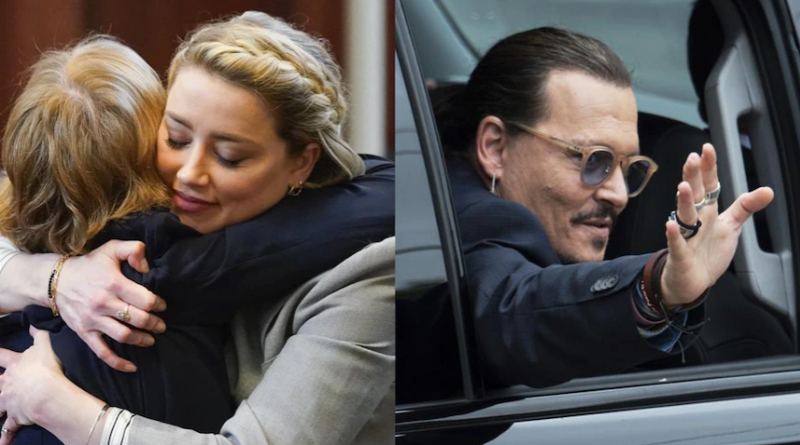 In the multi-million-dollar defamation case between Johnny Depp and Amber Heard, a jury sat for hours on May 31 without making a judgment after a six-week trial.
In Virginia's Fairfax County Circuit Court on Tuesday (local time), the jury is expected to begin deliberations. The short, volatile marriage of Johnny Depp and Amber Heard has been the subject of harrowing testimony in this trial. The jury will have to decide on the following.
What factors must the jury consider?
Ms. Heard's December 2018 opinion post in The Washington Post, in which she made a remark on domestic abuse, is at the heart of the legal dispute.
Although Mr. Depp's name was not mentioned in the piece, his lawyer told jurors that it was apparent that Ms. Heard was referring to him.
READ ALSO: What Happened to Joe Keery's Instagram Account? Has it Been Deleted?
Mr. Depp launched a defamation complaint against Ms. Heard for $US50 million ($70 million), stating that the op-ed she penned harmed his reputation and career. Ms. Heard is suing Mr. Depp for $US100 million ($140 million) in retaliation.
What do they need to make a decision on?
A jury of seven members must consider either two sections and the article's headline are defamatory.
The jury verdict form advises jurors on how to make this decision, including whether the statements were about Mr. Depp, were false, and had a defamatory inference about him. Because Mr. Depp is a high profile person, a jury can only find Ms. Heard guilty of defamation if the jury decides she behaved with "actual malice," which means she:
she either knew what she wrote was false or, 
she acted with reckless disregard for the truth.
Mr Depp's libel claim must fail, Ms. Heard's attorneys told the jury if Ms. Heard was subjected to even a single incidence of abuse. The headline for Ms. Heard's op-ed on the internet read, "I Spoke Up Against Sexual Violence — And Faced Our Culture's Wrath.
What Has To Change." Ms. Heard's lawyers claimed that she had expressed the facts and that her views were protected by the first amendment of the United States Constitution. Because The Washington Post is printed in Fairfax County, Virginia, Mr. Depp's lawyers filed their US complaint there. In this scenario, the newspaper is not a party.
While waiting for the verdict, Depp makes a surprise appearance on stage with Jeff Beck. "We kept this quiet," he added, "for obvious reasons."
Allegations of abuse
Jurors were shown graphic images of Mr. Depp's injuries and heard recordings of the couple's conflicts throughout the trial.
When Ms. Heard threw a vodka bottle at him in 2015, Mr. Depp claims the top of his finger was severed. Mr. Depp's finger was injured, but Ms. Heard denied it. She detailed more than a dozen incidents of Mr. Depp harming her, including her claim that he sexually attacked her with a liquor bottle in a drunken frenzy.
Mr. Depp has denied any physical or sexual abuse, stating that Ms. Heard made up the allegations in order to smear his name. He also alleged that she assaulted him physically on several occasions.
SOURCE: www.ghnewslive.com