A married woman has openly revealed that she still loves her ex-boyfriend though she is married with kids.
A woman who is married with kids has openly said something about her ex-boyfriend. first of all, let me ask this question; what will you do if you realize your wife still loves her ex-boyfriend? It will be a painful situation and I know this is happening to someone somewhere.
A woman with the name Serwaa has made it clear that she has been through a lot in her love life and at this point she thinks she has to give it a break, even though she is married with kids.
Below is what she wrote on social media;
I'm Serwaa and I live in Tema with my husband and wonderful children. We all get along very well but there's one thing that keeps bothering me, I really miss my ex-boyfriend. I love him and I think I made the wrong choice of marrying my current husband.
I fell strongly in love with my ex-boyfriend in my youthful days. I was 20 years when I met him and we dated for 3 years. He is well built and he cared so much about me at the beginning of our date. Shortlived, he left outside the country to England to further his studies. I was very glad when I heard he got the scholarship to study there. I had mixed feelings, even though I was happy for him, he was going to live me in the dark for many years and perhaps may not get interested in me.
He limited the time he used to talk to me on phone and always use his studies as an excuse, I became fed up and decided to go my own way to know what the future holds for me. A few months after the breakup, I met my current husband and he was cute and good-looking at first sight. We got attracted and pronto, we got married in the next three months.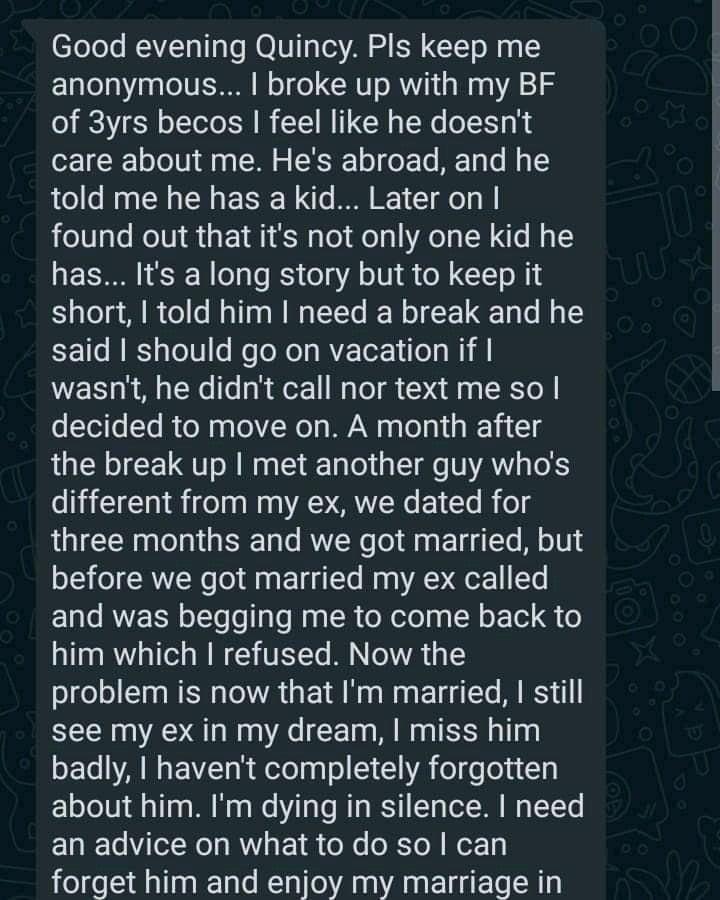 Now, my ex-boyfriend is begging to have me back. Indeed, I really miss him and see him in my dreams every time. I wish to spend the rest of my life with him even though I'm married with kids. Please what should I do to have him back?
SOURCE: www.ghnewslive.com